Sino-US programme targets HIV/AIDS
By Wang Zhenghua (China Daily)
Updated: 2005-06-08 00:23
The United States will contribute US$35 million over the next three years in a joint effort with China to combat HIV/AIDS.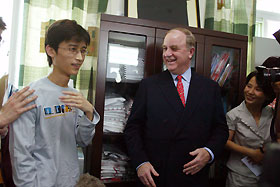 US Global AIDS Coordinator Randall Tobias (R) talks with Song Pengfei, a HIV/AIDs carrier, at the You'an Hospital in Beijing June 7, 2005. [newsphoto]
US Global AIDS Coordinator Randall Tobias, who made the announcement at a press conference in Beijing yesterday, said a close partnership between China and the United States was vital for tackling the disease.
"I am very, very impressed by the commitment made by the senior leadership of China," Tobias said. "My visit here on behalf of the president of United States, President Bush, is to better understand issues in China regarding HIV/AIDS."
According to the Ministry of Health, co-operation between China and the US on HIV/AIDS prevention and control began in 2002. Apart from the two governments, the partnership now involves institutions, non-government organizations and even businesses, the ministry said.
Northeast China's Heilongjiang Province is one of the beneficiaries of the collaboration.
Since last June, the US Global AIDS Programme has helped set up 15 of the province's 21 HIV surveillance sites at disease control and prevention centres.
Between June and November last year, 60 people tested positive for HIV, accounting for one-third of such cases detected in the province since the early 1990s.
"The programme has really helped us," said Wu Yuhua, a top researcher with the provincial disease control and prevention department.
"Assistance ranges from money grants to professional personnel, and, most importantly, it is based on our actual needs."
Wu said that after a year of effort, local authorities have realized the urgent need to bring the pandemic under control. In the coming year, the programme will help provide HIV/AIDS training for local disease control departments.
But the anti-HIV/AIDS campaign still has a long way to go.
According to the Heilongjiang disease control and prevention department, HIV/AIDS is now spreading from high-risk groups, such as blood sellers, prostitutes and homosexuals, to those in lower-risk groups - mainly through sexual transmission.
"The campaign against this monstrous disease started late in our province," said Wu. "We are still short of funds, facilities and professionals with proper knowledge about HIV/AIDS, despite assistance from the central government and foreign organizations in recent years."
The Chinese Government recently pledged 3.9 billion yuan (US$474 million) to help local governments fight AIDS and HIV.
But as well as material support, a major change is needed in local authorities' thinking, said Wu.
(China Daily 06/08/2005 page1)
Today's Top News
Top China News

FM: Rumsfeld's remarks on China's military 'groundless'




Sino-US programme targets HIV/AIDS




Meteorologists urged to improve forecasting




42 kg of 'ice' seized in cross-region action




Speaker urges Koizumi to shun shrine




N. Korea nuclear talks may resume in weeks