Growing China is no threat to the world - Tang
(Xinhua)
Updated: 2005-06-07 15:35
In a meeting with Australian Defense Minister Robert Hill, Chinese State Councilor Tang Jiaxuan said in Beijing Tuesday that a stable and continuously developing China is "an opportunity to countries around the world and by no means a threat".
"Some people are interested in portraying China as a threat. I think that's because they fail to have an objective and correct understanding of the developing path that China has chosen and they even have bias against China," Tang said.
Tang said China will keep following its road of peaceful development.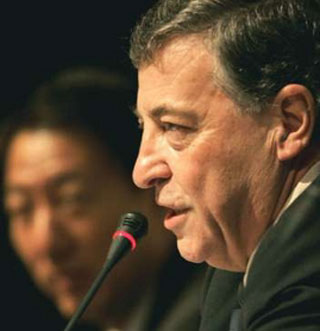 Australian Defence Minister Robert Hill speaks during a regional security conference in Singapore June 5, 2005. [Reuters]

"We are ready to expand dialogue with all the countries in the Asia-Pacific region on issues concerning regional peace and development to increase trust and promote cooperation," he said.

Tang said the Sino-Australia bilateral ties are "at an important stage for further development."

Tang said that a healthy, stable, mutual-beneficial and cooperative relationship between the two countries not only serves their fundamental interests, but also helps promote regional peaceand prosperity.

Hill said Australia values its relations with China and that the Australian army hopes to deepen cooperation with China especially in anti-terrorism and regional security.

Hill is in China for an eight-day visit at the invitation of his Chinese counterpart Cao Gangchuan, who he will meet on Tuesday afternoon.

Rumsfeld on China's military spending

US Defense Secretary Donald Rumsfeld said on June 3 2005 at an annual international security conference held in Singapore that Beijing spends too much on its military buildup, risking a military balance in the Asia-Pacific region, which is now dominated by Pentagon and its allies.

China's government earlier this year announced a 12.6 percent increase in military spending to 244.7 billion yuan, or roughly 30 billion US dollars. The United States by comparison spent 430 billion on defense in 2004.

Though China's military expenditure is about one fifteenth of the Pentagon's, Rumsfeld deemed it was too much.

"Since no nation threatens China, one wonders: why this growing investment? Rumsfeld asked.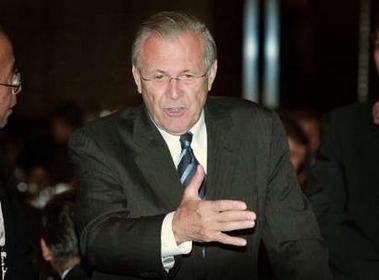 U.S. Secretary of Defense Donald Rumsfeld gestures as he chats with dignitaries before a dinner at a meeting of defence ministers from around the world in Singapore June 3, 2005.[AP]

"China appears to be expanding its missile forces, allowing it to reach targets in many areas of the world. China also is improving its ability to project power, and is developing advanced systems of military technology," Rumsfeld said.

However, the Pentagon chief also said a rising China with increasing world influence is a matter of fact. "China's emergence is an important new reality of this era -- one that the countries of the region would no doubt like to embrace," he said.

"Indeed, the world would welcome a China committed to peaceful solutions and whose industrious and well-educated people contribute to international peace and prosperity."

In the meantime, Rumsfeld made it clear that the Pentagon expects to strengthen military ties with Asia's other rising power, India.




Today's Top News
Top China News

Growing China is no threat to the world - Tang




New rules to help private businesses




Rains, floods leave 180 dead or missing




No corruption found in Games preparation




Special care slated for 'big exam' sitters




US, North Korean officials meet in New York