Special care slated for 'big exam' sitters
By Bao Baozu (China Daily)
Updated: 2005-06-07 00:28
The high school seniors taking the National College Entrance Examination from today are receiving every comfort and consideration they can get from communities nationwide -- whether it's rides to the testing sites or noise restrictions.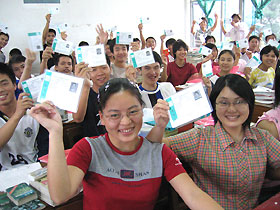 Students show their ID cards used for the exam in a school in Guangxi Zhuang Autonomous Region June 6, 2005. [newsphoto]

A total number of 7,230,000 students are attending the college entrance examination, witnessing an unprecedented increase of 1,100,000 over last year. Female students take up 44.5 per cent of the total.

In South China's Guangdong Province, for example, traffic around 38 of the 54 exam sites will be detoured, and eight bus stops will be temporarily relocated 30 minutes before and during the exam to minimize noise.

Quiet zones are set up within 500 metres of the sites. That means no street hawkers. No loud equipment at catering and entertainment places during the English listening test. And in a country where economic growth is usually king, no construction noise throughout the day. At night, the construction had better be a key project if it's loud enough to bother sleep time.

And there's a 24-hour hotline in case a student has a complaint.

The provincial meteorological office has even set up a team to inform related government agencies and the public of weather developments in this subtropical climate prone to thunderstorms.

In Shenzhen, the committee to address exam-related emergency cases is led by a vice-mayor. In Foshan, students ease tension by going to hospitals to inhale oxygen.

At the other end of the country, Harbin, capital of Heilongjiang Province in the northeast, began its first observance of "quiet days."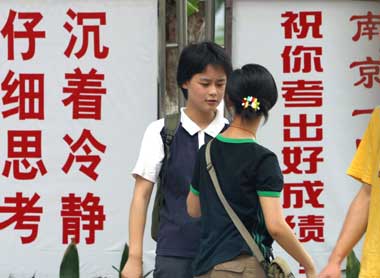 Two girls chat before they enter to take this year's college entrance examination in Nanjing, Jiangsu Province June 7, 2005. [newsphoto]

Honking vehicle horns, loudspeakers for commercial purposes and entertainment noise all are prohibited, said An Jianzhi of the Municipal Environmental Protection Bureau. And 210 police officers in 84 patrol cars will patrol outside the 42 examination sites.

"In case of emergency, any exam students can seek help from them," An said.

Huang Lunhui, manager of the Power Hotel, said that his hotel is providing the "hourly rooms" to the students for 60 yuan (US$7.20) an hour to have a good noontime rest. No reservations had been made as of yesterday afternoon, but Huang expected many rooms would be rented because many parents had inquired after them.

In Hangzhou, capital of East China's Zhejiang Province, all boats are forbidden to use their horns, and a special force patrols the main 10-kilometre stretch of the Beijing-Hangzhou Grand Canal, which usually handles 300 to 400 cargo boats a day. From 10 pm to 6 am, the canal in urban areas is closed, ensuring students a quieter environment for sleeping, said Chen Jiasheng, a senior officer with the Hangzhou Port and Shipping Administration Bureau.

And in Beijing, at least 324 volunteers will transport students to the testing sites in a programme sponsored jointly by Sina.com.cn, China National Radio and the Beijing Evening News.

"I just felt sorry for the students taking part in the entrance exam because of the heavy pressure, so I wanted to try to help them," said Zhu Di, one volunteer driver.

Drivers got a yellow logo to be pasted on their cars. Students may stop them, show their exam certificates and ride for free.

"Last year, there were reports saying students were deprived of examination qualifications because of transport difficulties," said Liang Ying, a sina.com.cn vice-director. "So we started the idea of volunteer rides this year."

This is the fourth year Changsha, capital of Central China's Hunan Province, has been doing the same.




Today's Top News
Top China News

New rules to help private businesses




Rains, floods leave 180 dead or missing




No corruption found in Games preparation




Special care slated for 'big exam' sitters




Birthday treaties for Belgian King Albert




US, North Korean officials meet in New York