Bank of China to seek strategic investors
(Agencies)
Updated: 2005-06-06 13:21
Bank of China, the country's largest foreign exchange bank, hopes to sell more than 10 percent of its shares to a number of foreign investors, its president, Li Lihui, said on Monday.
The bank is in talks with several strategic investors prior to a public listing of its shares, which Li said could happen late this year or early in 2006.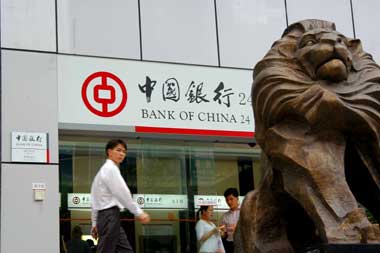 A man walks towards a Bank of China office in Shenzhen, south China's Guangdong Province in this May 8, 2005 file photo. Bank of China President Lilihui said in Beijing June 6 the bank will offer about 10% of its shares to strategic investors and will offer IPO later this year or early next year.

"It should be over 10 percent," Li told Reuters when asked about the size of the stake. "We hope this happens, but it will ultimately depend on the result of negotiations."

Asked about the timing of the listing, he said: "We may have to wait until around the end of this year or some time next year. We will have to wait for market opportunity."

The bank has hoped for a stock listing this year, but executives have grown increasingly conservative when talking about a timetable for an offering that is expected to raise several billion dollars.

Li was talking on the sidelines of the International Monetary Conference, a forum for leading commercial bankers from around the world.

He said no decision had been taken on where the shares would be listed.

UBS, J.P. Morgan and Deutsche Bank have all been mentioned as potential investors to help turn BOC, the second-biggest of China's Big Four state-run banks, into a lender run along sound commercial lines.

Li said he was confident the bank would be able to compete head-to-head with foreign banks, which are to gain full access to China's huge domestic market at the end of 2006, according to Beijing's terms of entry to the World Trade Organisation.

"We are fully prepared. We are confident in developing competitiveness. We are complementary to foreign banks in many areas. There are many opportunities for us to cooperate," Li said.

The bank received a $22.5 billion cash injection from the state in late 2003 to help bolster its balance sheet and make it more attractive to foreign investors.

A Chinese bank now can sell a maximum 25 percent to foreign investors.

Li said the overhaul of the bank would result in some people losing their jobs. "There won't be any large-scale layoffs at the bank during the reform process. But we can't say there won't be any layoffs at all," Li said.

Separately on Monday, Industrial and Commercial Bank of China, the mainland's largest lender, said it would set up a joint-stock bank by October to pave the way for an initial public offering in 2006 or 2007.




Today's Top News
Top China News

China's stock markets slumping to 8-year lows




Japan to scrap chemical arms left in China




Bank of China to seek strategic investors




Beijing Olympic volunteers get call-up




China-US talks fail to resolve disputes




Iraq says Saddam will face just 12 charges