Japan to scrap chemical arms left in China
(Agencies)
Updated: 2005-06-06 09:31
Japan wants to quickly scrap chemical weapons left behind in China by Japanese forces during World War II, but has made no decision on how much to spend for the project, the top government spokesman said on Monday.
China has complained that Japan has been slow in clearing up about 2 million chemical weapons buried or discarded by retreating Japanese troops after the war ended in 1945. China says some 2,000 Chinese have been harmed by such weapons.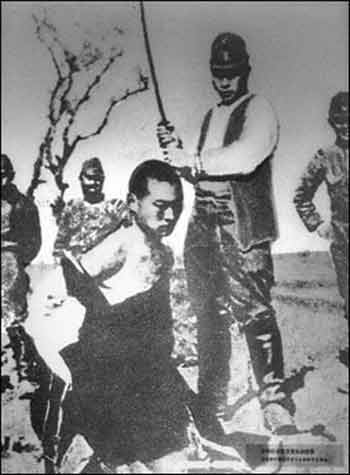 Japanese Imperial Army soldiers about to behead a Chinese man in Nanjing during their occuption of the city.[AFP/File]

"We want to carry out disposals as quickly as possible while keeping in mind (a target date of) 2007," Japanese Chief Cabinet Secretary Hiroyuki Hosoda told a news conference.

Japan is required to dispose of chemical weapons left in China by 2007 under an international treaty, the Chemical Weapons Convention. Japanese studies have placed the number of such shells at about 700,000.

In 1999, Japan promised to provide funding, technology, manpower, facilities or other assets needed to scrap the weapons.

According to a Nihon Keizai Shimbun report, Japan will spend more than 200 billion yen (1.9 billion dollars) building a chemical weapons disposal center in China to process Japanese weapons left there after World War II.

The chemical weapons recovery and disposal facilities will be built in the Haerbaling district of Jilin province, where most of Japan's abandoned chemical weapons are believed to be buried, the Nihon Keizai newspaper said.

The project is expected to be the largest overseas endeavor ever to be undertaken by the Japanese government, it said, without citing sources.

The cost of the project may increase further if the disposal process takes longer than expected, it said.

Japan and China will sign a special accord this summer on the initiative, the newspaper said.

The accord is expected to allow foreign companies that are not eligible to take part in large-scale projects under Chinese law to work on the disposal as long as they receive approval from the Japanese government, the newspaper said.

Foreign companies working on the project will also receive preferential treatment in tariffs on materials imported for the initiative, as well as in taxes on project-related deals in China, the newspaper said.

The Japanese government is expected to conduct an international bidding process for selecting construction companies for the project within the year, it said.

Japan estimates its forces abandoned more than 700,000 chemical weapons in China during the war, although Chinese experts say as many as two million exist -- the world's largest stockpile of abandoned chemical arms.

Some 90 percent of abandoned chemical weapons, including mustard gas, a highly poisonous blistering agent, are buried in Haerbaling and experts fear chemical agents from the weapons may have polluted the soil in the area.

Under the UN Chemical Weapons Convention, Japan has until 2007 to destroy all of the chemical weapons its troops left in China.






Today's Top News
Top China News

China's stock markets slumping to 8-year lows




Beijing Olympic volunteers get call-up




Japan to scrap chemical arms left in China




China-US talks fail to resolve disputes




Iraq says Saddam will face just 12 charges




Disease threatens as more floods loom large