China's stock markets slumping to 8-year lows
(Agencies/chinadaily.com.cn)
Updated: 2005-06-06 08:28
The future of China's deeply troubled stock markets went from bad to worse, slumping to fresh eight-year lows as regulators' plans to solve the overhang of non-tradable government-owned shares heightened fears more losses lie ahead.

The leading stock index of Shanghai Stock Exchange, one of China's two bourses, once dropped to a low of 998.23 points during the morning session June 6, the lowest in nearly eight years.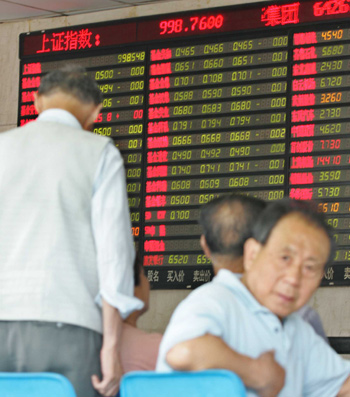 Chinese investors look at an electronic board showing share prices at a securities company in Shanghai June 6, 2005. The Shanghai Composite Index fell below 1,000 at 11:03 Monday morning, the lowest since February 24, 1997. [newsphoto]
The composite stock index of the Shanghai bourse picked up slightly to 1,005.82 points at midday, but it was still lower than Monday's opening of 1,010.38 points.
The benchmark index covers yuan-denominated A shares and foreign-currency B shares.

On Friday, the benchmark Shanghai Composite Index, which covers both A- and B-shares listed on the Shanghai Stock Exchange, closed at a fresh eight-year low Friday, down 2.43 points, or 0.24 percent, at 1,013.64.

It was the lowest close since February 24, 1997 after three consecutive sessions of losses that saw the composite trim 3.8 percent of its value.

Dealers said they expect the index to fall through the key technical mark of 1,000 points soon unless Beijing steps in with strong medicine to cure broken investor confidence.

"The market has been falling for years and investors are numb," said Zhang Qi, analyst from Haitong Securities.

"The key is to recover investors' confidence. There is more that the government could do to better support investors in the market."

In April, Beijing tentatively moved to prop up the beleaguered exchanges to not just halt the financial hemorrhaging but also as a first stitch in a wound that has been festering for years.

The China Securities Regulatory Commission chose four companies under which the non-tradable shares would be listed, and then announced this week it would select 10 more.

But at both junctures, anxious investors responded with more selling.
"The sentiment was so weak that the index has been falling really fast. Some companies' stocks even lost all of last year's gains in these several sessions," said Zhang.

It was not the first time that regulators sought a solution to the parlous overhang, in which of the 1,200 listed companies Beijing owns 66 percent of the 3.52 trillion yuan (US$425 billion) of market capitalization.

Indeed it is these state holdings that has stopped cold the growth of China's bourses, quite the opposite of what would be expected in an economy that has been growing at more than eight percent for two decades.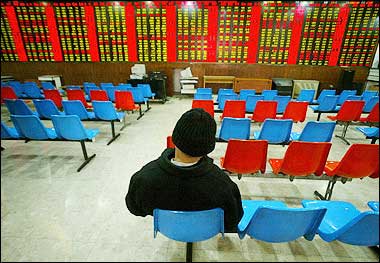 A man sits in front electronic stocks monitors in Shanghai June 3, 2005. The future of China's deeply troubled stock markets went from bad to worse this week, slumping to fresh eight-year lows as regulators' plans to solve the overhang of non-tradable government-owned shares heightened fears more losses lie ahead. [AFP]



Regulators first tried to resolve the overhang of state shares in 2001 to raise funding for China's fledgling social security system but panicked investors sent stocks plunging, forcing authorities to abort the plan.

Since then, Beijing has repeatedly vowed to fix the problem but only soiled the wound by constantly balking at private and institutional investor demands that their interests be protected in any sale program.

The market last peaked at 2,245 points four years ago.

It was no surprise the markets continued an inexorable slide, said a Shanghai fund manager, refusing to be named.

"The market has been falling because the first batch of plans were really not that good. We don't think the next batch will be very good either," he said.
The reason China's stock markets are on the verge of collapse has to do with the original design and purpose of the exchanges.

Fifteen years ago, the central government in Beijing, looking for a way to avoid paying enterprises' heavy debts and fund a welfare system which once was the responsibility of chronically money-losing state-owned companies, struck on the idea of creating self-serving capital markets.

Under given quotas, provincial officials selected weak enterprises in hopes of clearing the mountains of debt built up in the days when workers were provided from the cradle to the grave by enterprises.

Although market players recognize that the state holdings must be disposed of, years of half-baked, non-committal government measures has made the average investor rightly suspicious.

"Investors couldn't help but doubt that this state shares sale plan is not something positive," said Yi Linming, analyst at Industrial Securities.

"And the more they doubted, the more the market panicked and the more the market panicked, the more they doubted," said Yi.

Now the overseer's slower and more-measured approach to push through reforms, while widely appreciated as necessary, remain under fire because investors complain that the government is looking out for its own interests only.

"What the investors need is compensation, and it is the government who should be responsible for it," said Yi.



Today's Top News
Top China News

China's stock markets slumping to 8-year lows




Japan to scrap chemical arms left in China




Bank of China to seek strategic investors




Beijing Olympic volunteers get call-up




China-US talks fail to resolve disputes




Iraq says Saddam will face just 12 charges



Story Tools


Advertisement