Disease threatens as more floods loom large
By Liang Chao (China Daily)
Updated: 2005-06-06 05:22
More than 200 people are believed to have perished in devastating floods that have affected many parts of the nation.
As of last night, the seasonal rains - which struck late last week and continued over the weekend - had swept 204 to their deaths and 79 people were reported missing. Over 17.06 million people in 16 provinces, municipalities and autonomous regions throughout the Chinese mainland had been affected. Homes, farmland and other livelihoods were washed away by the heavy rains and subsequent landslides.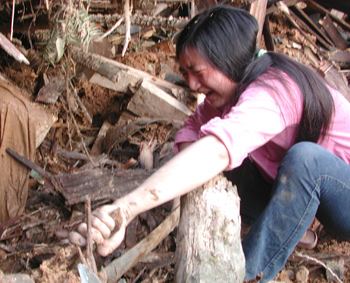 Xiao Lin from Majialing Village desperately searches for her parents among the debris of her home which was destroyed by floods. Xiao's village in Xinshao County, Shaoyang, Hunan Province was the worst hit by heavy rain and rising waters which struck southern China late last week and over the weekend. [newsphoto]

An estimated 1.8 million hectares of arable land has been affected and some 137,900 houses destroyed.

In stark contrast, some areas, such as southwest Yunnan Province, are suffering from serious droughts.

Lasted reports say 6.647 million hectares of farmland from 11 provinces are affected, and 11.08 million people and 6.37 million livestock are suffering a shortage of drinking water.

By press time yesterday, "no new casualties have been added to the statistics," which were released on Saturday by the State Flood-Control and Drought Relief Headquarters and the Ministry of Civil Affairs, sources with the headquarters confirmed. Localities have been ordered to prepare defences to combat this summer's floods and droughts.

At a meeting of the headquarters on Saturday, Vice-Premier Hui Liangyu, also head of the headquarters, urged "the full implementation of all anti-flood and drought measures so that human casualties and property loss can be mitigated with the safety of key cities and communication lines guaranteed."

Weathermen warned that flooding on the middle and lower reaches of the Yangtze River are likely to worsen in the next 10 days as more downpours with 220 millimetres of more rain predicted to hit.

Xiao Ziniu, deputy director of the National Meteorological Centre, said "rainstorms will sweep over provinces of Guizhou, Hunan, Jiangxi, Hubei, Chongqing and Sichuan" this week.

Disease is now a major threat in flood areas. At least three people have been struck down by typhoid fever in Taizhimiao, a township of Hunan's Xinshao County, according to local reports.

Local governments have stockpiled typhoid and diarrhea inoculations which are to be given free of charge to flood victims.

Thanks to an early-warning system, there were no causalities reported among the 40,000 people affected by heavy rains that hit Qijiang County of Chongqing Municipality from Friday evening to Saturday evening.

Five trains operating between Sichuan and Guizhou provinces were forced to stop on Saturday while 14 others made detours due to landslides triggered by downpours, Xinhua said, adding more than 3000 passengers were affected.

(China Daily 06/06/2005 page2)




Today's Top News
Top China News

China's stock markets slumping to 8-year lows




Beijing Olympic volunteers get call-up




China-US talks fail to resolve disputes




Many vote on names of pandas for Taiwan




Iraq says Saddam will face just 12 charges




Disease threatens as more floods loom large