Beijing Olympic volunteers get call-up
By Lei Lei (China Daily)
Updated: 2005-06-06 05:21
Not all of the nation's Olympic heroes fly over hurdles, snatch gold from a table tennis rally or somersault from diving boards.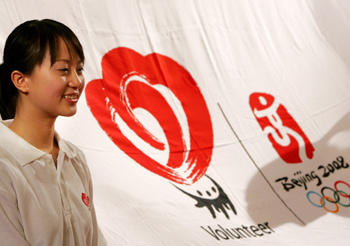 A Beijing university students helps unveil the logo of the Olympics volunteers program June 5, 2005. [newsphoto]

Yesterday the capital called on the unsung champions who will ensure the 2008 Games pass off without a hitch - the Olympic volunteers.

The "Beijing Olympic Volunteers Programme" was officially launched yesterday by the Beijing Organizing Committee for the Games of the XXIX Olympiad (BOCOG).

Some 100,000 volunteers from home and abroad will assist with the smooth-running of the games, engaging in various kinds of jobs, such as ensuring safety, media operations and welcoming thousands of international visitors.

"The Beijing volunteers will be part of the community of millions of other volunteers who have served the Olympic Games over the last century," said Jacques Rogge, the International Olympic Committee president at the launching ceremony.

"Volunteering also gives personal enrichment. It is a once-in-a-life-time experience, and a wonderful human adventure," said Rogge.

According to officials from the Beijing Olympic Volunteers Co-ordination Group Office, altogether 100,000 volunteers will be needed before and during the 2008 Beijing Games, with 70,000 serving the 2008 Summer Olympics and 30,000 for the Paralympics.

"Four volunteers projects will be included in the programme - the "Towards Olympics" Voluntary Service Project, the Olympic Games-time Volunteer Project, the Paralympic Games-time Volunteer Project and the BOCOG Pre-Games Volunteer Project," explained Guan Chenghua, head of the Co-ordination Group Office. Recruitment will begin from August 2006 to April 2008.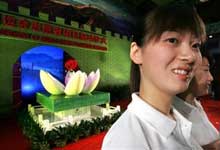 Chinese volunteers pose near the logo for the Beijing 2008 Olympics Volunteer Program at a hotel in Beijing, China, Sunday, June 5, 2005. [AP]

"During the Games, we need qualified volunteers, who should have some foreign language skills," he said. "They also should be aged 18 before April, 2008."

At the launching ceremony, Liu Qi, the president of BOCOG, stressed the importance of the volunteers.

"A high-level organization of, and the services provided by the volunteers are important foundations guarantee a high level Olympic Games with distinguishing features, which Beijing has promised to host," Liu said. "We believe that the Chinese volunteers will go hand-in-hand with their counterparts from all over the world to interpret their own understanding of the Olympic spirit and to leave a unique legacy to the Olympic Movement."

UN Secretary-General Kofi Annan sent a letter of congratulations to BOCOG volunteers programme.

"The Olympic Games to be held in Beijing offers unprecedented opportunities for voluntary action and recognition," said Annan in his letter. At the ceremony, Rogge and Liu jointly unveiled the logo of the Beijing Olympic Volunteers Programme.

The logo (pictured below) is designed in the style of traditional Chinese painting and calligraphy. On the top, two red heart-shaped rings are tied together, signifying that Beijing Olympic volunteers will provide heart-to-heart services to athletes, members of the "Olympic Family" and all visitors and guests.

Three dancing human figures below represent the volunteers and their devotion to people they are to serve. With the integrated English word "Volunteer", the logo is in line with the official emblem of the 2008 Beijing Games - Chinese Seal, Dancing Beijing.

(China Daily 06/06/2005 page1)




Today's Top News
Top China News

China's stock markets slumping to 8-year lows




Beijing Olympic volunteers get call-up




China-US talks fail to resolve disputes




Many vote on names of pandas for Taiwan




Iraq says Saddam will face just 12 charges




Disease threatens as more floods loom large