China-US talks fail to resolve disputes
By Jiang Wei (China Daily)
Updated: 2005-06-06 05:21
An immediate solution to the textile stand off between China and the US remains elusive despite a weekend of talks between top trade officials.
Vice-Premier Wu Yi, who met with the US Secretary Carlos Gutierrez and Trade Representative Rob Portman in Beijing on Saturday, called the textile disputes a "major problem".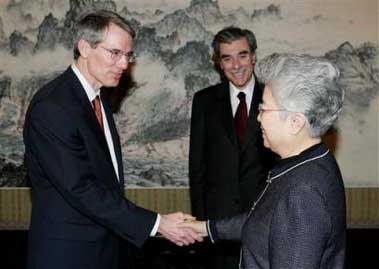 Chinese Vice Premier Wu Yi, right, shakes hands with US Trade representative Rob Portman as U.S. Secretary of Commerce Carlos Gutierrez looks on in Beijing, China, Saturday, June 4, 2005. [AP]

"The restrictions initiated by the US Government have imposed a severe impact on China's textile production," she said. "They also hurt the industry and the public's confidence of the multilateral trade system." Wu is understood to expect the US side to adopt concrete measures to guarantee the frictions are solved properly.

Minister of Commerce Bo Xilai, said at his first meeting about the dispute with his US counterpart, China was facing great pressure as the textile industry in the country employed more than 19 million people.

However, Bo and Gutierrez reached a consensus that the two countries were keen to solve the dispute without a trade war, which would "hurt the interests of both."

Bo had illustrated China's stance to a conference of trade ministers from Asia-Pacific Economic Co-operation (APEC) members in South Korea's Jeju Island last Friday, saying China was willing to solve textile disputes with the United States and the European Union appropriately within the framework of the World Trade Organization (WTO).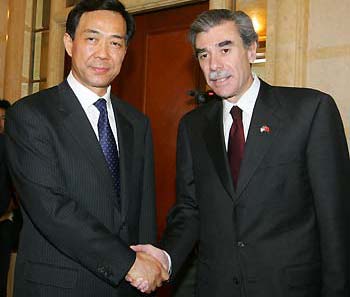 U.S. Secretary of Commerce Carlos Gutierrez (R) shakes hands with his Chinese Minister of Commerce Bo Xilai during a meeting in Beijing June 4, 2005. Top U.S. and Chinese trade officials met in Beijing on Saturday to discuss surging textile exports from China and thorny IPR issues. [Reuters]

The minister also said China strongly opposed the attempt of some foreign officials to peg the textile standoff with issues concerning renminbi rate.

"As no agreement has been reached between China and its major trade partners, it was still too early for Chinese textile producers to feel at ease," said Gao Hong, a researcher with Chinese Academy of Social Sciences.

Gao suggested Chinese enterprises to upgrade their industrial structure, improve technology and develop high value added products with self-owned brands.

Some large enterprises, which realized the risks earlier, chose to establish overseas branches to penetrate the local markets, some doing so even before the end of the global quota regime in January.

The Zhejiang Province-based Youngor Group established in February 2004 a joint venture in the United States with the Kellwood company, a US garment selling giant.

"This move not only helped the company to shun the uncertainties resulting from trade protectionism but also led a new way to overseas markets," said Sun Yunbiao, general manager of the company.

Zheng Yonggang, president of the Shanghai-based Shanshan garment company, also said his group intended to merge medium and small garment brands in the United States and the European Union in a bid to "gain a foothold in these markets."

(China Daily 06/06/2005 page1)




Today's Top News
Top China News

China's stock markets slumping to 8-year lows




China-US talks fail to resolve disputes




Disease threatens as more floods loom large




Many vote on names of pandas for Taiwan




Warning system to ward off alien species




Beijing Olympic volunteers get call-up