Iraq says Saddam will face just 12 charges
(Agencies)
Updated: 2005-06-05 21:07
BAGHDAD - Iraq said it would bring only 12 charges of crimes against humanity against Saddam Hussein although there were more than 500 possible cases against the ousted dictator.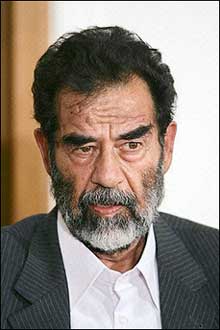 Iraq said it would bring only 12 charges of crimes against humanity against Saddam Hussein (pictured) although there were more than 500 possible cases against the ousted dictator. [AFP/file]

Hailing the success of its week-old security sweep of the capital, the government said Sunday it was expanding the operation, while US forces announced the discovery of a vast well-equipped insurgent underground bunker in western Iraq.

"There are possibly more than 500 cases being prepared against Saddam Hussein, but there is no reason to waste time in dealing with them all," government spokesman Leith Kubba told reporters.

"We are completely confident that the 12 fully documented charges that have been brought against him are more than sufficient to ensure he receives the maximum sentence."

Saddam, whose regime was toppled in April 2003 and is now in US custody in Iraq awaiting trial, could face the death penalty if found guilty.

His trial should begin within two months, said Kubba adding: "The position of the government is to speed up the trial."

This is the first time the final number of charges to be brought against Saddam has been announced, although the judge in charge of his trial said on Saturday that 12 charges had been completed so far.

Saddam faces a litany of accusations from his more than two decades in power including the 1988 chemical attack on the Kurdish village of Halabja, the forceful repression of the 1991 Shiite rebellion and the 1990 invasion of Kuwait.

Kubba vowed that the Shiite Muslim-dominated government of Prime Minister Ibrahim Jaafari would eradicate what he described as the "Saddamist, fascist thinking and the hardline Muslim ideas."

Saddam loyalists and foreign Muslim militants are accused of fueling the insurgency which receives sympathy from much of the once-dominant Sunni Arab community.

The US military announced the discovery of the bunkers dug into an abandoned quarry near Karmah, west of the capital, along with 50 weapons caches unearthed in the last 72 hours.

The whole complex was 170 metres (yards) wide and 275 metres long or bigger than four football pitches, it said, and fresh food inside showed the hideout had been recently inhabited.

Fully furnished living spaces were found in the warren, along with a kitchen, showers and an air conditioner, hi-tech combat equipment such as night vision goggles and a large haul of weapons and ammunition.

"Coalition forces and ISF (Iraqi security forces) found numerous types of machine guns, ordnance, including mortars, rockets and artillery rounds, black uniforms, ski masks, compasses, log books, night vision goggles, and fully charged cell phones," it said.

Marines were sifting through the site in search of intelligence after which the arms and ammunition were to be destroyed.

Meanwhile, Kubba said that Operation Lightning, involving 40,000 Iraqi policemen and soldiers backed by US forces, had helped stabilise Baghdad and had been expanded to an area south of the capital known as the triangle of death.

"Citizens, especially in Baghdad, feel a marked decrease in crime and that there is more security on the streets of Baghdad," he said.

"The forces are moving in on what is known as the triangle of death," adding that Iraqi forces had arrested 20 to 30 people in the area that is notorious for insurgent strikes, including six foreigners.

He warned Baghdad citizens that they may fall accidental victim to the security sweep in the capital, but that was the price to be paid for Operation Lightning's successes to date.

"People must accept to pay the price and take responsibility of what is going on in all of Iraq," said Kubba. "The car bombs are like bombs being dropped on Iraq by a foreign invading force."

Almost 700 Iraqis were killed throughout the country in May, one of the deadliest months since the US-led invasion of March 2003, while Iraqi authorities have given a figure of nearly 900 insurgents detained and 28 killed during the operation.

Although there has been an overall decrease in attacks over the last week, an Egyptian businessman was shot dead in the capital on Sunday.

An Iraqi died in an assassination attempt on a police chief near Baquba, north of Baghdad, and three Iraqi civilians were accidentally killed by soldiers firing at rebels in Dur, further north.





Today's Top News
Top World News

China 'greatly concerned' over textile dispute




Bank of Communications seeks $1.9b in IPO




Death toll from floods mounts to over 200




Singapore PM: Containing China short-sighted




China moves to regulate organ transplant




US senator opposes tariff bill against China