Death toll from floods mounts to over 200
(Agencies)
Updated: 2005-06-05 17:23
A week of torrential rains and heavy flooding has killed 204 people in China, with 79 others missing, and caused widespread damage.
The seasonal downpours have affected more than 17 million people so far, including those who have lost property and others who have had to flee flooded areas, the Xinhua news agency said.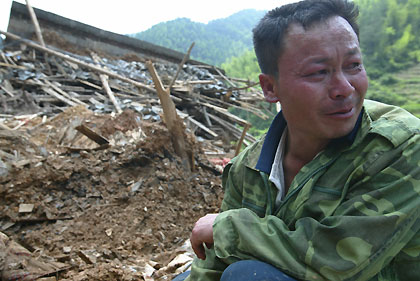 A man cries as he try to search for missing loved ones after devastating flood waters washed away homes in Xinshao County, Hunan Province, Central China on June 3, 2005. [newsphoto]

Official statistics showed that 614,000 hectares of farmland were also destroyed and 137,900 rooms were damaged, Xinhua said. China calculates damage to buildings by room.

Governments across the country have been ordered to mobilize manpower and resources to battle the floods, in particular to prevent major rivers and reservoirs from being breached.

Vice Premier Hui Liangyu said at a meeting of the State Flood Control and Drought Relief Headquarters Saturday that measures should be taken to reduce human casualties and keep property loss at a minimum, Xinhua said.

Hui has also demanded the prompt relocation of people made homeless by the flooding and the safeguarding of reservoirs to protect water supplies.

Heavy downpours and fast-moving mountain torrents have battered several provinces, including Hunan, Sichuan and Guizhou, since May 30, killing tens of thousands of livestock.

Emergency relief supplies were rushed to flood-hit areas to help hundreds of thousands of people forced from their homes, reports said.

Officials said they had dispatched rice, clean water and other relief materials while the health ministry issued an urgent circular calling for immediate measures to stem outbreaks of disease.

The worst-affected province was Hunan where by Friday 60 people had been killed.

One of the hardest-hit areas in Hunan is Xinshao county, where 43 people had been confirmed dead and 34 others were missing, Xinhua cited the county government saying Sunday.

The death toll might climb as rescue work continues, a local official said.

More than 1,000 government officials and soldiers were working in the disaster-hit areas of Xinshao to rescue survivors and find the missing.

The mountainous landscape of the area and flood damage to roads added to the difficulty of the rescue effort, officials said.

Photographs from Hunan showed bridges washed away and tree trunks and other debris strewn along river banks and roads.

Police were seen carrying the injured on makeshift stretchers as villagers fled the destruction with their meagre belongings on their backs.

Many people in Xinshao were injured when buildings crumbled as the gushing streams of water hit. Officials last week said medicine was desperately needed.

In Qijiang county in the southwestern Chongqing municipality 500 houses were flattened and another 2,000 damaged by late Saturday following 12 hours of continuous rains and the ensuing floods, Xinhua said.

More than 300 landslides were reported, halting local railway and road transport.

Some 2,000 passengers were stranded at the Qijiang Railway Station Saturday. Authorities dispatched 51 passenger buses to transport them by road when highway traffic resumed.

The level of the Qijiang River reached 223.5 meters by Saturday afternoon, 3.5 meters above the danger mark.

In southern Guangdong province, the rainstorms caused an estimated total economic loss of 55.38 million yuan (6.69 million US dollars), according to official figures.

Thousands of people perish every year from floods, landslides and mudflows in China, with millions left homeless, and officials have warned this year's floods could be worse than usual.

The China Meteorological Administration warned last month of an "apocalyptic" summer of severe drought and floods.




Today's Top News
Top China News

China 'greatly concerned' over textile dispute




Bank of Communications seeks $1.9b in IPO




Death toll from floods mounts to over 200




Singapore PM: Containing China short-sighted




China moves to regulate organ transplant




US senator opposes tariff bill against China