IOC chief gives thumbs-up to Beijing
(Xinhua)
Updated: 2005-06-05 15:25
International Olympic Committee (IOC) President Jacques Rogge said in Beijing on Sunday that Beijing organizers have done a very good job in its preparation for the 2008 Olympics and got positive assessment from the IOC's coordination commission for the Games.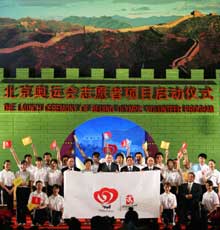 IOC President Jacques Rogge (C) and Liu Qi (R), chairman of the Beijing Olympic Organisation Committee, attend the launch of the Volunteer Programme for the Beijing 2008 Olympics in the Chinese capital June 5, 2005. [Reuters]

His remarks came after the IOC coordination commission, headed by IOC member Hein Verbruggen, wrapped up its fourth visit to the host city on Thursday.

"I have received very positive assessment from Mr. Verbruggen,"said Rogge, who is here to attend the Beijing Games Volunteers' Launching ceremony. to be held later in the same day.

During its three-day visit, the IOC coordination commission inspected the venues under construction and discussed with Beijingorganizers a wide range of subjects such as budget, transport, sport, communications and marketing.

"We can continue to talk of the green games, not only meaning the environment, but also green lights," Verbruggen told reportersfollowing the inspection by the coordination commission.






Today's Top News
Top China News

China 'greatly concerned' over textile dispute




Bank of Communications seeks $1.9b in IPO




Singapore PM: Containing China short-sighted




China moves to regulate organ transplant




US senator opposes tariff bill against China




China urges SCO unity, cooperation