Efforts against floods, droughts
(Xinhua)
Updated: 2005-06-05 11:22
Chinese government and departments at various levels have been ordered to get themselves ready for combating floods and droughts in the summer flood season and ensure the safety of major rivers and reservoirs.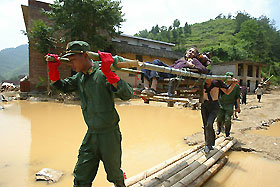 Armed Police troops carry an old woman away from the flooded area. Photo Taken on June 2, 2005. [newsphoto]

In a working meeting of the State Flood Control and Drought Relief Headquarters, Chinese Vice Premier Hui Liangyu, also chief of the headquarters, urged the full implementation of all anti-flood and drought measures so that human casualties and property loss can be reduced to a minimum and the safety of major cities and communication lines can be guaranteed.

As most parts of China have entered the main flood season, the disasters have already caused great human and property losses, said Hui at Saturday's meeting.

At the same time, other parts of China have been suffering serious droughts.

He urged people to be fully prepared for more floods and droughts and to closely monitor the changes brought by floods, droughts and other disasters.

Victims in disaster-hit areas should be provided with adequate food, shelter, clean drinking water, clothing and medical care, hestressed.

According to the latest statistics released by the headquartersand the Ministry of Civil Affairs, the floods this year have already killed 204, left 79 missing and affected 17.06 million people in 16 Chinese provinces, municipalities and autonomous regions.

They have also affected 1.828 million hectares and destroyed 614,000 hectares of farmland and damaged 137,900 houses.

Meanwhile, 6.647 million hectares of farmland from 11 provinceshave suffered from droughts which have caused drinking water shortage for 11.08 million of local residents and 6.37 million livestock.






Today's Top News
Top China News

Singapore PM: Containing China is short-sighted




China moves to regulate organ transplant




China 'greatly concerned' over textile dispute




US senator opposes tariff bill against China




China urges SCO unity, cooperation




Marines find weapons caches, huge bunker