Fire in France-Italy tunnel kills at least 2
(Agencies)
Updated: 2005-06-05 10:45
BARDONECCHIA, Italy - At least two people died on Saturday when a truck carrying tyres caught fire in the Frejus tunnel, shutting off a major route under the Alps between France and Italy for an indefinite period, officials said.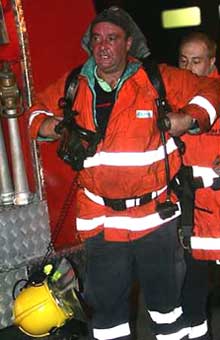 An Italian fire worker removes his equipment after an inspection on the Italian side of the Frejus tunnel between France and Italy, June 4, 2005. At least one person died on Saturday when a truck carrying tyres caught fire in the Frejus tunnel, shutting off a major road under the Alps between France and Italy, Italian officials said. [Reuters]

Smoke poured from the Italian entrance to the 13-km (8-mile) tunnel after the truck burst into flames, the searing heat preventing rescuers from reaching the site of the blaze.

"There are now two bodies ... We don't know if we will find any more," Andrea Fabi, a senior police official on the Italian side of the tunnel, told Reuters by telephone.

Police officials initially said one person had died and played down the possibility that there might be more victims.

But rescue workers were struggling to put out the fire, which spread to two more trucks, and one kilometer of the tunnel remained unreachable because of thick black smoke, Fabi said.

As many as 20 people suffering from smoke intoxication had been rescued from the tunnel and their lives were not in danger, Italian news agency ANSA said.

Rescue workers on the Italian side said they feared the tunnel had been damaged in the fire and that parts of the ceiling or walls could collapse.

Fabi said the blaze appeared to have started when the engine of a truck caught fire.

The incident comes six years after 39 people were killed in a fire in the Mont Blanc tunnel, about 100 km (60 miles) north of Frejus. Italian police said the Frejus fire was not on the same scale as the Mont Blanc disaster.

The Frejus tunnel is the major road connection between Lyon and Turin, and runs close to the site of the 2006 Winter Olympics in the Italian Alps.

French road authorities said it had been closed at 6:45 p.m. (1645 GMT) because of the fire, and would remain shut indefinitely. Some 2 million vehicles pass through it each year.

The 1999 Mont Blanc tunnel disaster began when a truck laden with flour and margarine caught fire. The blaze trapped about 30 other vehicles and took more than two days to extinguish.

Four firms and a dozen individuals, including the Belgian driver of the truck, are on trial in France charged with involuntary manslaughter over the deaths.




Today's Top News
Top World News

Singapore PM: Containing China is short-sighted




China moves to regulate organ transplant




Wu Yi: Textile issue China's top concern




US senator opposes tariff bill against China




China urges SCO unity, cooperation




Marines find weapons caches, huge bunker