China urges SCO unity, cooperation
(Xinhua)
Updated: 2005-06-05 09:07
ASTANA, Kazakhstan -- Chinese Foreign Minister Li Zhaoxing urged Saturday the member countries of the Shanghai Cooperation Organization (SCO) to further consolidate unity and cooperation to guarantee a smooth development of the group.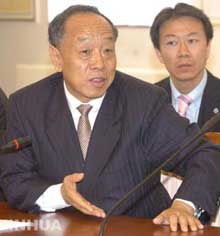 Chinese Foreign Minister Li Zhaoxing speaks at a press conference in Astana, capital of Kazakhstan, on June 4, 2005. Li was in Astana to attend the foreign ministers meeting of the Shanghai Cooperation Organization (SCO), which reaffirmed the readiness to further cooperate in combating terrorism, extremism and separatism. [Xinhua]

Addressing a SCO foreign ministers' meeting, Li called on the SCO members to take concrete measures to step up preparation for the forthcoming SCO summit, scheduled to be held in Astana in July.

To make the summit a united, pragmatic and pioneering one, the Chinese foreign minister proposed the SCO members to strengthen economic cooperation, beef up security measures, broaden external contacts steadily, deepen cooperation in culture, disaster relief, education, tourism, media and other fields.

On the situation in Central Asia, Li said China firmly supports the efforts by the central Asian countries to maintain independence and sovereignty, keep social stability and promote economic development.

The Chinese foreign minister expressed his delight to see the situation in Uzbekistan's Andijan region back to normal, and hoped that the coming presidential election in Kyrgyzstan would proceed smoothly.

He encouraged the SCO member states and other organizations concerned to make efforts to maintain stability, cooperation and development in Central Asia.

In his speech, Li also stressed that the United Nations (UN), as the world's most representative and authoritative organization, should play a leading role in international affairs, especially in safeguarding world peace and the promoting common development.

The foreign minister suggested the UN Security Council to pay special attention to developing countries and take more care of their interests. The Council should stick to the principle of maintaining geographical balance among different regions and take different cultures into account.

As for the reform schemes involving various regions, a broad consensus should be first of all reached in the regions concerned before they are implemented, Li said.

The foreign minister insisted that any UN reforms reflect the common interests of the member states, and there is no need to set deadlines for reforms or force implementation of any immature reforms.

Foreign ministers from Kazakhstan, Russia, Tajikistan, vice foreign ministers from Uzbekistan, Kyrgyzstan attended the meeting, with Mongolian foreign minister attending the meeting as an observer. The foreign ministers discussed topics such as how to further strengthen cooperation in the future, how to prepare for the forthcoming SOC summit, in addition to exchanging views on other international and regional issues.

The SCO, set up in June 2001 to promote regional cooperation and fight terrorism, groups China, Russia, Kazakhstan, Kyrgyzstan,Tajikistan and Uzbekistan.




Today's Top News
Top World News

Singapore PM: Containing China is short-sighted




Wu Yi: Textile issue China's top concern




Floods, landslides kill at least 88




Marines find weapons caches, huge bunker




Mundell: China should keep currency peg




White House plays down new Quran reports