China, US hold talks over textile, IPR issues
(Xinhua)
Updated: 2005-06-04 15:15
Chinese Minister of Commerce Bo Xilai held talks with his US counterpart Carlos Gutierrez on Saturday in Beijing to explore for the solution to the Sino-US textile trade friction which reports said will cause 100,000 job-cuts in Chinese factories.
The two ministers also discussed intellectual property right protection, US trade deficit with China and the preparation work for the upcoming sixteenth meeting of Sino-US joint commission of commerce and trade, but mostly focus on the textile issue, sources said.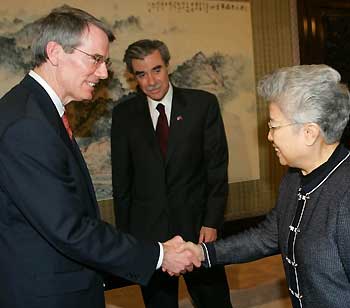 U.S. Trade Representative Robert Portman (L) is greeted by Chinese Vice Premier Wu Yi, as U.S. Commerce Secretary Carlos Gutierrez (C) looks on in Beijing June 4, 2005. Gutierrez and Portman are in Beijing to discuss disputes over Chinese textiles exports and product piracy.[Reuters]

"Sino-US trade witnessed such great progress in the last 26 or 27 years and we two countries should have the capability to properly deal with the textile trade issue and other questions," Bo said after the talks, which lasted three quarters longer than the scheduled one hour.

"China has become the third largest trade partner of the United States and it's natural for some problems to emerge in such a developing progress," Bo said. "We exchanged our points on the textile issue frankly and in a systematic manner during the talks. "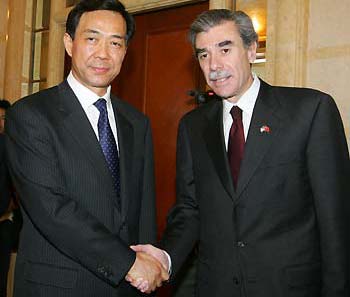 U.S. Secretary of Commerce Carlos Gutierrez (R) shakes hands with his Chinese Minister of Commerce Bo Xilai during a meeting in Beijing June 4, 2005. Top U.S. and Chinese trade officials met in Beijing on Saturday to discuss surging textile exports from China and thorny IPR issues. [Reuters]

The US government decided to restrict Chinese textile and clothing imports earlier this year, months after such quota was eliminated worldwide on Jan. 1, according to World Trade Organization agreements.

Such limitation sparked anger among Chinese textile and clothing industry. Reports said that will cause about 100,000 layoffs in Chinese factories.

As one of the world's major textile and clothing provider, Chinese textile industry has a 19 million employment and even more in relevant sectors, according to Bo Xilai. Most of the factories were of low-profit and workers were low-paid but rely on the job to raise their families.

Gutierrez said it's a "good meeting", but he did not elaborate what will US do to settle the textile issue.

The United States "understands the frustration" China and Chinese industry feel on the textile issue and hopes it will not hurt the bilateral relations between the two sides, he said at the beginning of the meeting.




Today's Top News
Top China News

Singapore PM: Containing China is short-sighted




China, US hold talks over textile, IPR issues




Floods, landslides kill at least 88




Mundell: China should keep currency peg




U.S. confirms Gitmo soldier kicked Quran




Hong Kong needs more political talents