Nadal shocks Federer at French Open
(Agencies)
Updated: 2005-06-04 13:42
Pouncing from the breezy start, bouncing at the dusky end, Rafael Nadal turned his 19th birthday into a milestone triumph over Roger Federer in a French Open semifinals that confirmed the Spanish prodigy's arrival as a star on the Grand Slam stage.
Moments before the fading twilight threatened to suspend the match, Nadal asserted his irrepressible will and his uncanny combination of speed, strength and creativity to reach the final of his first French Open with a 6-3, 4-6, 6-4, 6-3 victory Friday that ended Federer's bid to complete a career Grand Slam.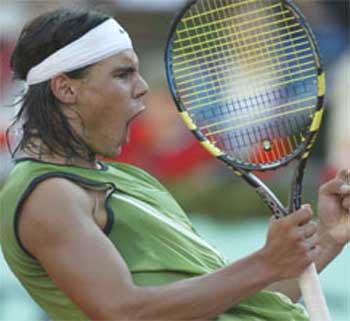 Spain's Rafael Nadal reacts as he plays Switzerland's Roger Federer during their semifinal of the French Open tennis tournament, Friday, in Paris. [AP]

The youngest men's finalist at Roland Garros since Michael Chang won the title at 17 in 1989, Nadal will play for the championship Sunday against unseeded Argentine Mariano Puerta, a 6-3, 5-7, 2-6, 6-4, 6-4 winner over Russia's Nikolay Davydenko. It will be the first French men's final between left-handers in the Open era.

"It's incredible to beat Federer," said Nadal, who avenged a five-set loss to him at Key Biscayne, Fla., two months ago, extended his winning streak to 23 matches and moved within one victory of becoming the first player to win the French Open in his debut since Mats Wilander in 1982. "Winning a semifinal is already incredible, and beating Federer is even more amazing."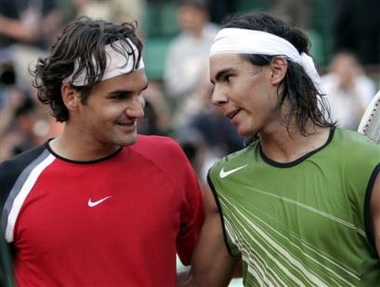 Top-seeded Switzerland's Roger Federer, left, smiles to Spain's Rafael Nadal after their semifinal match of the French Open tennis tournament, at the Roland Garros stadium, Friday June 3, 2005 in Paris. Nadal won 6-3, 4-6, 6-4, 6-3. [AP]

From the opening point, a stunning forehand pass that whizzed by Federer on his serve, Nadal showed he was neither intimidated by the four-time Grand Slam winner, nor overwhelmed by the occasion. He had won five titles this year, all on clay, and he treated this biggest clay event of all as if he were born to win it.

"I started bad and finished bad," Federer said. "I was good in the middle, but that was not good enough."

They had walked out on court with different demeanors, Nadal unsmiling and intense, Federer relaxed and waving, the crowd giving both an ovation as they settled in for what promised to be the match of the tournament. The fans would not be disappointed.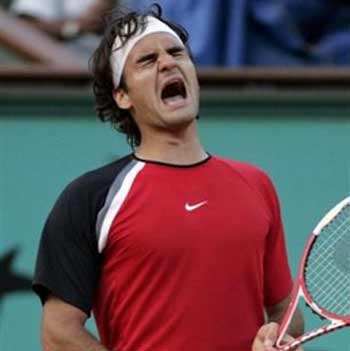 Top-seeded Switzerland's Roger Federer reacts as he plays Spain's Rafael Nadal during their semifinal match of the French Open tennis tournament, at the Roland Garros stadium, Friday June 3, 2005 in Paris. [AP]

The players cast long shadows on the brick red clay when they started the match at 6:29 p.m., the sun shining once again after a 1 1/2-hour rain delay before the 3 1/2-hour duel between Puerta and Davydenko.

Federer's vulnerability quickly became apparent when he whacked a forehand 10 feet long and committed two more unforced errors for a break in that first game. Mishitting an unusual number of shots, Federer couldn't tame his forehand or make much use of his generally superior serve. He suffered three breaks to lose the set and saw the end of his streak of 28 straight sets won over the past 11 matches going back to the tuneup in Hamburg.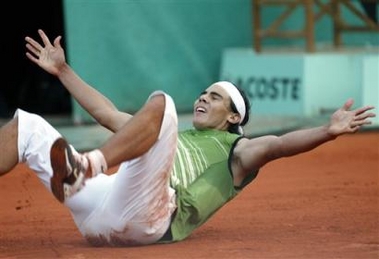 Spain's Rafael Nadal falls on the clay as he defeats top-seeded Switzerland's Roger Federer during their semifinal match of the French Open tennis tournament, at the Roland Garros stadium, Friday June 3, 2005 in Paris. Nadal won 6-3, 4-6, 6-4, 6-3. [AP]

A clap of thunder followed by a sun shower at the start of the second set briefly held up play but the players never left the court. They simply sat in the changeover chairs under umbrellas waiting for it to pass while fans huddled under their own umbrellas. When play resumed, Federer found his rhythm at last and broke Nadal twice on the way to a 5-1 lead. Even then, Nadal did not go quietly. Grunting with every forehand, he broke Federer again, punched the air with a left uppercut and won three straight games before Federer closed out the set on his serve.

It was now nearly 8 p.m. and, with no lights at Roland Garros, it was apparent that the match might have to be suspended if it went five sets. A fifth set probably would not even be started after 9 p.m.

Racing to beat the fading light and Federer, Nadal closed out the third set at 8:40 p.m. when he broke Federer in the final game.

Nadal jogged out for what would be the last game of the set, holding a 5-4 lead, while Federer walked to the service line with a distinct weariness about him. On the third set point, Nadal grunted loudly with a forehand down the line, took Federer's forehand response and belted an unreachable forehand back into an open court. Nadal bellowed in triumph, leaping and punching the air with his left fist.

Nadal's eagerness didn't stop him from making a magnanimous gesture of sportsmanship even when he was down a break at 2-1 in the fourth set. With Federer serving at 40-15, a shot by the Swiss was called long. Nadal pointed to the spot, indicated the ball was good, and asked the umpire to replay the point. They did and Federer won it to go ahead 3-1, but that would be the last game he would win.

Nadal charged back relentlessly to take a 4-3 lead. At 9:02 p.m., the court completely in shadows even with a play blue sky in the distance, Federer spoke to the umpire about how difficult it was to see.

"I could hardly see the ball in the end," said Federer, the 23-year-old holder of four major titles. "I am disappointed we continued. ... I wished we could have continued tomorrow."

Instead, Federer went out to serve. He won the first point after a brilliant exchange at the net that ended with his third reflex volley. But Federer wound up dropping the game when he mishit a backhand eight feet wide, and followed that with a loud cry ¡ª "AAARGH!" ¡ª that could be understood in any language.

That gave Nadal a chance to serve out the match, and he wasted little time in doing it. He set up match point with an overhead, then watched Federer's final shot float long.

Nadal dropped to the court and lay flat on his back a few moments before bounding up and jogging to the net. The best player in the game and his heir apparent embraced warmly.

"I said, `I'm sorry for you,'" Nadal said. "He said, 'No, no, you played very well. Good luck for the final. Good luck for the future.'"




| | |
| --- | --- |
| | |
| Heat VS Pistons | |

| | |
| --- | --- |
| | |
| David Beckham contributes to youth soccer | |

| | |
| --- | --- |
| | |
| Spurs reached NBA Finals | |
Today's Top News
Top Sports News

Singapore PM: Containing China is short-sighted




Floods, landslides kill at least 88




Bo: Solve textile disputes properly




Mundell: China should keep currency peg




U.S. confirms Gitmo soldier kicked Quran




Hong Kong needs more political talents