Turkey PM urges curbs on Kurd guerrillas
(Agencies)
Updated: 2005-06-04 13:07
The prime minister of Turkey, one of Washington's most important Muslim allies, said Friday he will urge President Bush to clamp down on Kurdish guerrillas who are infiltrating into Turkey from mountain strongholds in northern Iraq.
Recep Tayyip Erdogan also said Turkey would press on with its campaign to join the European Union, arguing that anti-Turkish sentiment was not a major factor in this week's rejection of an EU constitution by voters in France and the Netherlands.
Speaking in an exclusive interview with The Associated Press ahead of his Wednesday meeting at the White House, Erdogan said he wants the guerrilla bands of Turkish Kurds "to be totally taken out of northern Iraq."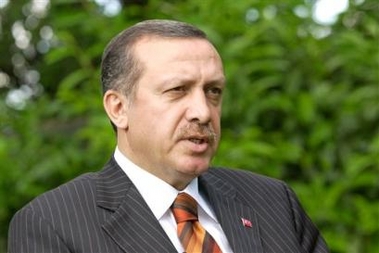 Turkish Prime Minister Recep Tayyip Erdogan speaks in an exclusive interview with The Associated Press in the garden of his official residence in Ankara on Friday, June 3, 2005. Erdogan said Friday he was disappointed by the failure of EU referendums in France and the Netherlands but said Turkey was determined to press forward with its efforts for EU membership. [AP]

At least 14 Turkish soldiers and 49 rebels have died since March in guerrilla attacks after a lull of several years, and the fight is becoming an increasingly sore point in already strained relations between the two NATO allies.

Turkish leaders have repeatedly demanded that the U.S. military move against guerrillas loyal to the Kurdistan Workers Party, which has been fighting for an autonomous Kurdish region in southeastern Turkey for two decades.

But U.S. forces have their hands full with the Iraqi insurgency. American commanders are not willing to spare soldiers to chase guerrillas from bases in the forbidding terrain of northern Iraq, a Kurdish region that is one of the few stable spots in Iraq.

Erdogan said the problem has to be addressed.

"They are involved in armed training in northern Iraq and they infiltrate into Turkey," he said, sitting in the garden of his official residence. "Unfortunately terrorism which is being nourished there is continuing to create trouble."

Turkish intelligence officials say some 2,000 Kurdish guerrillas have moved into Turkey this year to launch attacks and estimate there are 3,500 more in Iraq. Some 37,000 people have died in the fighting since 1984.

The issue is extremely sensitive for Turks, many of whom blame the U.S.-led invasion of Iraq for the rise in fighting.

Turkish leaders also worry that the growing power of Iraqi Kurds in their home region could encourage the rebels in southeastern Turkey and increase aspirations for a pan-Kurdish state that would take parts of Turkey, Iraq, Iran and Syria.

Erdogan's demand for action comes amid a slow recovery in U.S.-Turkish relations that were damaged by Turkey's refusal to let U.S. troops or warplanes operate from Turkey during the Iraq invasion.

Defense Secretary Donald H. Rumsfeld, who was angered by that rebuff, said in March that Iraq's insurgents would be weaker if Turkey had permitted American soldiers to open a northern front in the Iraq war.

Erdogan complained that some officials and news commentators began questioning the value of the U.S.-Turkish partnership after the differences over the Iraq war.

"These are steps that are being taken by people with bad intentions who are trying to cast a shadow over our solidarity. We will never allow this to happen," he said.

Erdogan also is certain to talk to Bush about Turkey's bid for European Union membership, which Washington has strongly supported.

Erdogan said he was disappointed by the French and Dutch referendums, but insisted they were not caused by opposition to EU membership for his predominantly Muslim nation.

He said he expected EU governments to accept Turkey's bid once his country completes reforms. In 10 to 15 years the EU "will be a place where civilizations meet. ... It will become a global power with Turkey's accession," he said.

Some opponents of the proposed EU charter have cited Turkish membership as a worry. There is growing opposition in Europe to immigration from Muslim countries and serious questions about whether the EU should allow in a mostly poor, Muslim country of 70 million people.

But Erdogan said fears of Turkish membership were not the primary concern.

"In France there was no anti-Turkish sentiment," he said. "There was some in the Netherlands, but even there, unemployment, economy, security were at the forefront."

Erdogan has largely staked his premiership on winning membership for Turkey, which once was the heartland of the Ottoman Empire but is now a secular state that sees itself as a bridge between European and Asian cultures.

"I would have wished that the results in France or the Netherlands were not as such," Erdogan said. "There is a negative climate prevailing."

But, he added, "an EU which is on its way to becoming a global power will overcome this."




Today's Top News
Top World News

Singapore PM: Containing China is short-sighted




Floods, landslides kill at least 88




Bo: Solve textile disputes properly




Mundell: China should keep currency peg




U.S. confirms Gitmo soldier kicked Quran




Hong Kong needs more political talents