Plane diverted to Canada after false hijacking alert
(Agencies)
Updated: 2005-06-04 09:59
Canadian military jets intercepted a Virgin Atlantic flight from London to New York and diverted it to the eastern city of Halifax after its transponder mistakenly sent out a hijacking alert, officials said.
The plane, an Airbus A340-600 carrying 273 passengers and 16 crew members, landed at Halifax airport on Canada's east coast at 10:59 am (1459 GMT) and was immediately surrounded by heavily armed federal police.
The pilot told ground officials that the airplane had not been hijacked, Virgin Atlantic's spokeswoman said, but military commanders still sent two Canadian CF-18 fighter jets to intercept it as a precaution.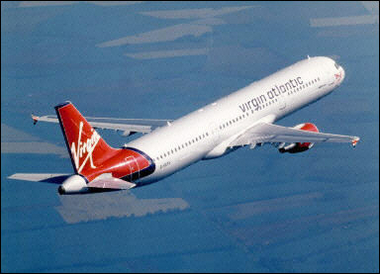 A Virgin Atlantic passenger plane.[AFP/File]

"Right now, there is no threat associated to the plane and the plane has been turned back to the Halifax international airport authority at this time," Royal Canadian Mounted Police Constable Joe Taplin said after an emergency response team searched the plane and interviewed the crew and passengers.

"(The passengers) were fully cooperative and appreciated what took place and undertood why it took place," he said.

Virgin Atlantic blamed the scare on a false hijacking message from a malfunctioning transponder, a devise in the cockpit that sends out a preset coded number to identify an aircraft on radar screens.

In the case of a real hijacking, the preset transponder code can be discreetly changed to 7500 by the flight crew -- tipping off air traffic controllers on the ground without the need for pilots to speak on the radio.

Technicians investigated what caused the apparent equipment error while passengers waited aboard the plane on the runaway.

"We're pleased to report that the technical issues onboard have been resolved and the flight has been cleared for takeoff," Virgin Atlantic's spokeswoman told AFP shortly after 3 pm (1900 GMT).

The plane was scheduled to arrive at New York's John F. Kennedy Airport at 4:30 pm (2030 GMT).

US President George W. Bush, who was at his ranch in Crawford, Texas for the weekend, was briefed on the incident, said White House spokesman Scott McClellan.

"We had officials, senior staff that was here with the president, including the deputy chief of staff and the president's military aide that participated in various calls regarding the situation," McClellan told reporters in Crawford.

"After September 11, we worked to put steps in place to address matters like this. And those procedures were being followed in this case, as well," he said.

Dozens of aircraft destined for the United States were diverted to Halifax following the September 11, 2001 terrorist attacks on the United States.




Today's Top News
Top World News

Floods and landslides claim 88, another 73 missing




Bo: Solve textile disputes properly




Mundell: China should keep currency peg




U.S. confirms Gitmo soldier kicked Quran




Hong Kong needs more political talents




Boeing 787 to get Chinese components