Police: Hackers stole Israeli defense data
(Agencies)
Updated: 2005-06-04 09:13
Hackers who broke into the computers of some of Israel's biggest industrial corporations also stole sensitive defense data, a senior police investigator said Friday.
The investigator, Nir Nateev of the police cybercrime unit, declined to give details.
The newspaper Yediot Ahronot said civilian defense contractors were hit and there was a suspicion that politicians might also have been targeted. Israeli TV said the defense data was taken from firms producing aerial surveillance drones, or unmanned aircraft.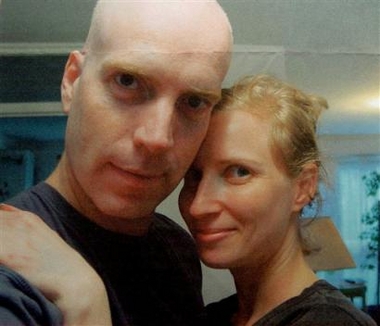 In this undated photo released by the Haaretz daily newspaper Sunday May 29, 2005, Michael Haephrati, 41, left, is seen in with his wife, Ruth Brier-Haephrati, 28, right. The two have been arrested in Britain last week and are both wanted in Israel on suspicion of computer hacking offenses involving the use of a so-called Trojan horse software program, which sits in the victim's computer and gives the hacker full access to the machine over the Internet. [AP]

The revelations were the latest twist in the business scandal, in which Israeli companies are suspected of using illicit surveillance software to steal information from their rivals and enemies.

Among the list of victims is a cigarette importer, the local operations of the Ace hardware chain and Hewlett-Packard Co.

The "Trojan horse" scandal, named after the monitoring software secretly planted on the corporate computers, has been front-page news since police lifted a gag order this week. Police say 22 people have been arrested.

Some versions of the spy software tempted victims into installing it by posing as a package of confidential documents delivered via e-mail. Once installed, the software recorded every keystroke and collected business documents and e-mails on a victim's PC and transmitted information to a server computer registered in London.

The suspects in Israel include senior executives from three prominent private investigation firms, among them a former top military investigator, retired Shin Bet security agent and former police officers.

A British judge denied bail Friday to Michael and Ruth Haephrati, who are being held in the case in London as Israel seeks the couple's extradition.

Israeli investigators believe Michael Haephrati, 41, designed the spying program and sold customized copies to three Israeli private investigators.




Today's Top News
Top World News

Singapore PM: Containing China is short-sighted




Floods, landslides kill at least 88




Bo: Solve textile disputes properly




Mundell: China should keep currency peg




U.S. confirms Gitmo soldier kicked Quran




Hong Kong needs more political talents