Floods, landslides kill at least 88
By Wang Zhuoqiong and Jiang Zhuqing (China Daily)
Updated: 2005-06-04 00:51
When Xiao Yang and her family evacuated their home in the early hours of Wednesday night, the water outside was already past their knees.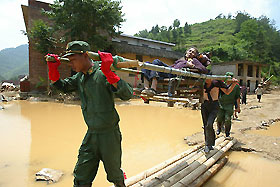 Armed Police troops carry an old woman away from the flooded area. Photo Taken on June 2, 2005. [newsphoto]

Struggling with children and grandparents the group headed for higher ground, but, reluctant to leave the farming family's valuables behind, Xiao Yang's husband decided to go back to save whatever he could carry.

As he disappeared into the darkness, it was the last time any one would see him alive.

First light revealed their home had been washed away, sweeping Xiao Yang's husband to his death.

Torrents and mud flows caused by the rains pounding Central China's Hunan, Southwest China's Sichuan and Guizhou provinces, and Northwest China's Xinjiang Uygur Autonomous Region resulted in at least 88 deaths as of 4 pm on Friday, with a further 73 missing, according to the Ministry of Civil Affairs.

On Friday Yang Zhiai, director of the rescue department of the Hunan Provincial Red Cross, visited Xiao Yang's village, Taizhimiao, where the 400 residents have seen many of their homes destroyed.

Village mostly gone

"Most of the village was gone, and homeless villagers were crying for their loss," he said.

"Houses made of mud and bricks were completely destroyed by the flood. Ploughed fields have been torn up by the waters."

A county official who gave only his surname, Zhu, attributed the damage to torrential storms that dropped more than 200mm of rain on Central and Western Hunan between Tuesday and Wednesday while many were sleeping.

The head of the village told Yang that it would take about five years for the village to recover.

The disaster has forced the evacuation of more than 215,000 people.

Latest figures show more than 69,000 houses destroyed and 198,000 more damaged.

Nearly 55,000 hectares of ploughed fields have been ruined, with another 311,000 hectares being partially spoiled.

The ministry estimated the direct economic loss will reach at least 2.47 billion yuan (US$298 million).

Telecommunications, transport routes and water supplies have all been cut by the floods.

In Hunan Province, 62 people were reported dead and 61 missing across 10 cities.

Back in Taizhimiao more than 50 people made homeless by the floods are huddled in a classroom of a local primary school. Xiao and what remains of her family are among them.

Aid on the way

Yang, the Red Cross official, says they are being given three meals a day and have clean water.

Hunan has sent 5 million yuan (US$604,000) to the affected areas, along with 15 tons of rice, 300 tents and 1,000 quilts.

More aid, including medicines and food, will arrive in the province on Monday.

A massive rain belt from Sichuan to East China's Zhejiang Province was the main contributor to the heavy rainfall, which began on Tuesday.

In Guizhou Province, natural calamities caused by the storms and landslides killed 21 people, destroyed more than 5,400 homes and led to 184 million yuan (US$22 million) in losses.

"In Songtao County, only one child survived a devastating landslide, which swallowed two families and killed six others on Tuesday," said the head of the provincial anti-flood and drought relief office, who gave only his surname, Zhao.

Forecasts predict heavy rains and storms in some regions of the province, meaning more disasters are possible, he warned.

"The death toll could surpass last year's level because the major flooding season lasts from June to July in Guizhou," Zhao added.

In Sichuan Province, four workers were killed and three others trapped by flooding, said an official with the Anxian County in Mianyang.

Statistics from the flood control and drought relief headquarters indicated that mud-rock flows and landslides killed nine and left 14 missing in Sichuan.




Today's Top News
Top China News

Singapore PM: Containing China is short-sighted




China moves to regulate organ transplant




China 'greatly concerned' over textile dispute




US senator opposes tariff bill against China




China urges SCO unity, cooperation




Marines find weapons caches, huge bunker