Boeing 787 to get Chinese components
By Wang Yu (China Daily)
Updated: 2005-06-03 23:43
Boeing yesterday signed US$600 million worth of contracts with Chinese companies for the production of commercial airplane components.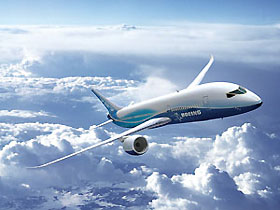 An imaginery image of the Boeing-787 jetliner.

Deals included the first-ever confirmed agreement to produce parts for the brand new Boeing 787 Dreamliner.

Meeting in Beijing the aviation giant finalized contracts for the 787 composite rudder, the 737 forward entry door and the 737 automatic over-wing exit door with the Chengdu Aircraft Industrial (Group) Co Ltd, a China Aviation Industry Corporation I (AVIC I)-affiliated company.

Also sealed was the deal for the 787 wing-to-body fairing panels between Boeing and Hafei Aviation Industry Co, Ltd, a firm under AVIC II.

"AVIC I is keen to further its long-standing partnership with Boeing. As well as strengthening our own aircraft building capability with the ARJ 21 feederliner project, we also hope to grow into a global supplier for the international aircraft manufacturing industry," Liu Gaozhuo, president of AVIC I, said.

The AVIC I boss added that becoming the sole partner on component supply with Boeing on the revolutionary 787 project was an endorsement of the Chinese plane makers' technology and manufacturing capability.

"Since large amount of new composite materials are used in the 787 dreamliner, it imposes higher demand on us as a component supplier. It is surely a recognition of our technological capability,'' Liu said.

Already more than 3,500 Boeing airplanes -- one third of Boeing's world fleet -- have major parts and assemblies built in China.

Boeing Commercial Airplanes Vice-President and General Manager of Airplane Production Carolyn Corvi said that yesterday's agreements showed China's growing role in Boeing's strategy of global manufacturing and production outsourcing on the 787, 777, 747 and 737 aeroplane programs.

"China's aviation industry is providing outstanding technological capabilities and resources that help us meet quality, cost and delivery imperatives in our programs -- particularly on the new 787 project,'' she said.

Agreeing with Corvi, David Wang, president of Boeing China, said it was natural for aircraft manufacturing to become a global industry, instead of been limited within a single territory.

Because China boasts manufacturing facilities and a cheap, educated workforce, it makes sense for both Boeing and Airbus to shift some production into the country, Liao Quanwang, deputy director of China Aviation Development Research Centre, said.

Airbus, Boeing's main-rival, has pledged to offer a 5 per cent risk-sharing partnership with China on its newly unveiled A350 project.

Both AVIC I and AVIC II expressed they were busy negotiating with Airbus on the A350 programme. Deals may be concluded by the end of this year, Xu Zhanbin, vice-president of AVIC II, said.

Also yesterday, the Shenyang Aircraft Corporation, an AVIC I-affiliated company, signed a memorandum of agreement with Boeing to build the 787 leading edge assembly for its vertical fin.

BHA Aero Composite Parts Co Ltd signed memorandums of understanding to supply interior panels for the 777 control cabin, as well as wing-to-body fairing panels and the tail cone for the Next-Generation 737. BHA is an equity-share joint venture between Boeing, Hexcel Corp and AVIC I.

Boeing also announced yesterday the decision to substantially increase 737 component production at Shanghai Aviation Industrial Corp, Xi'an Aircraft Company and Shenyang Aircraft Corporation for the manufacture of 737 parts, including the vertical fin and horizontal stabilizer.




Today's Top News
Top China News

Singapore PM: Containing China is short-sighted




China, US hold talks over textile, IPR issues




Floods, landslides kill at least 88




Mundell: China should keep currency peg




U.S. confirms Gitmo soldier kicked Quran




Hong Kong needs more political talents