China does not want large forex rises
(Agencies)
Updated: 2005-06-03 14:20

CHEJU, South Korea - China does not want large incremental rises in foreign exchange reserves because it poses a difficult problem for the government, Commerce Minister Bo Xilai said on Friday.

China will handle its foreign exchange reserves prudently, he told a news conference on the sidelines of a meeting of Asia-Pacific trade ministers in the South Korean resort island.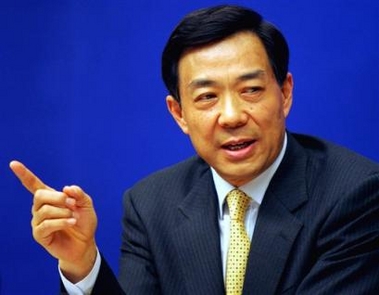 China's Commerce Minister Bo Xilai speaks to the media during a press conference in Beijing Monday, May 30, 2005. [AP]

"China does not want to have a large, incremental reserve of foreign exchange because as a matter of fact, it constitutes a difficult problem for the Chinese government," Bo told the news conference through an interpreter.

"The Chinese government is responsible for the world economy," Bo said, adding that China would manage its policy on foreign exchange reserves prudently.

China's official Xinhua news agency on Wednesday quoted the country's foreign exchange regulator as saying it was a great challenge to manage growing foreign reserves to achieve better yields.

Dissatisfied With New Trade Limits

At the conference, Bo lashed out at new restrictions on Chinese textile exports imposed by the United States and European Union.

He said Beijing expressed "strong dissatisfaction" with the new limits, saying they pose "serious threats to Chinese textile enterprises."

"It's a move of protectionism," Bo said at the news conference following a meeting of trade chiefs from the Asian-Pacific Economic Cooperation forum.

Earlier Friday, Bo met with U.S. Trade Representative Robert Portman to discuss the dispute over a surge of Chinese textile exports that began after quotas were scrapped last year.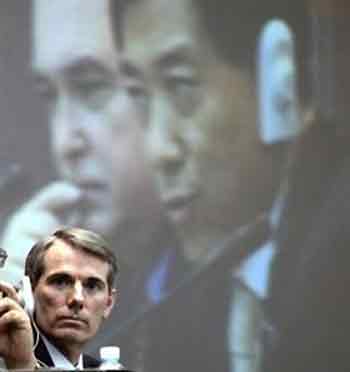 U.S. Trade Representative Robert Portman, bottom, listens to the speech by China's Commerce Minister Bo Xilai, projected on a screen, during a joint press conference for officials from the 21 states and regions of the Asia-Pacific Economic Cooperation forum in Jeju island, south of Seoul, Friday, June 3, 2005.[AP]

Details of the 1 1/2 hour meeting meeting weren't released, although Portman described said the sides had held "very helpful, constructive discussions on the various trade issues."

Bo said China had simply been following terms agreed to when it entered the World Trade Organization two years ago. "We haven't been gaining what we deserve," he said.

Still, he said China was "willing to address this issue in a rational manner" within the framework of the World Trade Organization.

Beijing had announced last week that it would quintuple export tariffs on 74 types of textile goods on June 1, hoping to persuade its trading partners not to restrict textile imports that have soared since quotas were scrapped at the end of last year.

But Beijing dropped the plans following a U.S. move to impose quotas to restrain the growth of imports of low-priced Chinese textiles. The European Union referred the textile dispute to the World Trade Organization, which triggered similar controls.

On Thursday, WTO Director-General Supachai Panitchpakdi said the dispute was still in an "initial phase" which requires further negotiations among involved parties.

"We would have to let the process take its course at the moment," Supachai told reporters.

Portman is to join U.S. Commerce Secretary Carlos Gutierrez later this week in China, where he will meet China's Vice Premier Wu Yi over the textile dispute.

Meanwhile, Bo declined to comment directly on China's plans for its revaluing its currency. However, he said "China does not want to have a large incremental increase in foreign exchanges."