A sexual revolution silently going on in China
By Esther Zhao (womenofchina.com.cn)
Updated: 2005-06-03 14:22
Li Yinhe, China's first female sociologist on sex issues, was born in Beijing in 1952. She is currently the researcher and mentor of doctorates with the Institute of Sociology at the Chinese Academy of Social Sciences.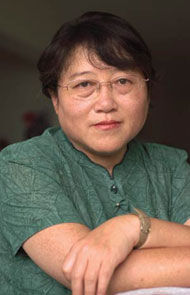 Li Yinhe, China's first female sociologist on sex [baidu]

She has a PhD degree in Sociology from Pittsburg University in the United States and a post-PhD degree in Sociology from Beijing University. She was once listed as one of China's 50 Most Influential People by Asian Weekly. Summarizing her research in the past decade, Li says that a sexual revolution is silently going on in China.

Exploring Chinese People's Most Private Moments

Sexual issues are considered by Chinese to be the most private topics. During Li Yinhe's 10 years of study about the sex life of Chinese people, such as her survey on women's initiatives in having sex and homosexuality, she ran into a great deal of misunderstanding, which sometimes put her in awkward situation.

"The majority of Chinese believe sex is a negative thing that can't be talked about in public," says Li. She hopes her work might help Chinese live a healthy sexual life.

"I recently got a letter from a father in South China, who complained that his family was on the verge of collapse after he and his wife found their young son to be a gay man, and such information greatly worried me," she recalled.

"One doesn't necessarily show his or her affection to only one person, or to the same sex. Homosexuality should be tolerated and accepted by society provided that it doesn't harm others, as it's not as unhealthy as some believe it to be," Li asserts.

Are Chinese Content with Their Sexual Life?

"Generally speaking, Chinese people's marital life is relatively harmonious." Li found in one of her recent survey that 50 percent of Chinese couples were content with their spouses.

However, there is a seemingly contradictory result from a survey recently conducted by Renmin University of China that among the interviewed 3,824 married or cohabiting Chinese, more than 25 percent of them have sex less than once a month and there are 6.2 percent who have had no sex in the past year.

What's Li's comment on these seemingly contradictory data? She analyzed that the second survey didn't mean that Chinese are sexually incapable.

Two factors are attributed to such phenomena°™the increasing pressure and stress in daily life and the traditional Chinese viewpoint which tells people to be abstinent so as to keep good health (traditional Chinese medicine holds that too much sex is unhealthy).

Li felt strongly that a sexual revolution was silently going on in China during her years of study. It's true that sex issues such as one night stands, extramarital affairs, prostitution, cohabitation, contraception and abortion have already become part of Chinese people's life.

Li has been shocked at how rapidly Chinese people's sexual attitudes are changing. According to her study in Beijing, the percentage of Chinese people having premarital sex was 15.5 percent in 1989, which increased to 60-70 percent in 2004. According to Li, there are four types of sexual relationships in China:

Marital sexual relationships with child-bearing as the main intent

Marital sex relationships which don't prioritize child-bearing but place more importance on gratifying sexual experiences

Heterosexual relationships outside of marriage

Homosexual sex.

Extramarital Sex Dishonors Marital Commitment

In today's China, extramarital sex has become a severe problem, endangering the harmony of many families. Li believes that extramarital sex dishonors the commitment between the spouses and should be condemned, but it is permissible if the couple has a mutual agreement about extramarital encounters. Li offers two methods to solve the problem°™divorce, or the couple each has a sexual partner other than his or her spouse so as to maintain the balance.

One Night Stands Are a Personal Choice

One night stands are but a personal choice and it shouldn't be morally reprimanded if both participants are unmarried. Though, Li says that this kind of sex is full of risk, as having one more sexual partner means an increased risk of contracting a sexually transmitted disease. So people need to have safe sex.

Male Homosexuals in China

Li's research indicates that the biggest difference between Chinese male homosexuals and those in Western countries is that the former will eventually choose to enter marriage with a woman. This may somehow baffle Westerners. But for a native Chinese, this is quite understandable, because in China men are unavoidably under pressure to get married, not only to continue the family, but also, these are the overwhelming behavioral norms established by traditional Chinese culture. So most male homosexuals find ways to conceal their sexual preference or take advantage of their wives' minimal demand for sex. And if their "secret" is disclosed, some of the wives react in a mild way, for the wives are more jealous of their husbands' love affairs with a woman. The reason behind this phenomenon is that many Chinese heterosexuals remain ignorant of homosexuality, and that Chinese aren't confined by religious doctrines and are more motivated by the cultural importance of continuing the family.

Prostitution Concerns Morality

"It would be more reasonable to issue license to Chinese prostitutes and administer regular physical examinations to them. This will safeguard women's rights and be conducive to the social problems related to prostitution. I believe that day will come. I don't mean to legalize this special trade, but I opt not to view it as a crime. We need to deal with it as a moral issue, or a business based on free will, whether there is money paid or not. We should reserve the right to reprimand it from the prospective of morality.

"It's impossible to eliminate the problem by criminalizing it, for that will drive it underground and create a chain of social problems such as gang involvement and police corruption. We should find a solution to it, instead of punishing prostitutes."

Li points out that legislation on sex issues in different nations should stay conform to the different cultures. As for China, legal reform should emphasize moral reprimand as well as preventing sexually transmitted diseases.

Li's appeal on this issue has been publicized at an international conference and was received with much concern.

Legislation on Sexual Harassment to Protect Women in Workplace

"The concept of sexual harassment was originally put forward during the Western feminist movement, and it mainly refers to a superior using his or her workplace seniority to harass subordinates, who have to bear the mistreatment for fear of losing their jobs or chances of being promoted. China has taken legal measures to protect women from sexual harassment. The All-China Women's Federation has completed the draft of the Amendment on the Law on the Protection of the Rights and Interests of Women, which has been sent to the State Council. This amendment explicitly bans sexual harassment to women."

"The victims of sexual harassment are not always women, and men sometimes suffer from the same problem." Nevertheless, Li says that the ratio of women as victims to that of men as victims is 9 to 1.

China is undoubtedly going through a sexual revolution. Li says that although Chinese haven't advanced "sexual freedom" as a slogan for sexual emancipation, they have demonstrated this behavior in practice. She said in respect to sexual practices, that Chinese would "catch up" with Western countries in no more than 20 years.





| | |
| --- | --- |
| | |
| Miss Canada Natalie Glebova wins Miss Universe title | |

| | |
| --- | --- |
| | |
| Britney, Kevin need viewers | |

| | |
| --- | --- |
| | |
| Taiwan talk-show hostess Small S to be engaged | |
Today's Top News
Top Life News

China opposes UNSC enlargement with Japan




Over 70 dead as floods destroy many homes




Bo: China does not want large forex rises




IOC: All's well on Olympic construction




Small carmakers rise in large China market




Koizumi hints at shrine visit plan, again