Over 70 dead as floods destroy many homes
(Agencies)
Updated: 2005-06-03 10:57
At least 71 people have died and 58 are missing in torrential rains pounding central and southwestern China that has forced the evacuation of more than 200,000 people, the government said.
The latest figures also show more than 67,000 houses have been destroyed while 30,000 head of livestock have been killed.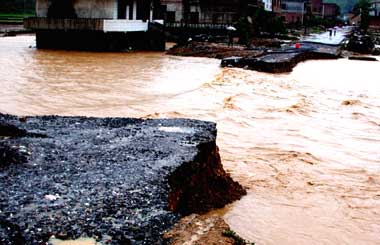 A section of highway in Loudi, Hunan Province was damaged in the mountain torrents. [newsphoto]

The central province of Hunan is the worst affected, with 49 people dead and 42 missing, said the Ministry of Civil Affairs on its website.

Casualties have also been reported in the southwestern provinces of Sichuan and Guizhou, it said.

The ministry estimated the economic cost so far at 2.8 billion yuan (338 million dollars) with hundreds of thousands of hectares of farmland ruined by flooding and mountain torrents.

At least 30,000 buildings have collapsed in Hunan, Guizhou and Sichuan, injuring many who were sleeping as the rainy season arrived with a vengeance.

"Local civil affairs departments have dispatched rice, clean water and other relief materials to affected people," State Civil Affairs Ministry official Fang Zhiyong told AFP.

The rainstorms triggered mountain torrents in about 60 villages in six townships in Xinshao and Shaodong counties.

Many people in Xinshao were injured by buildings that crumbled as the gushing streams of water hit. Medicine was desperately needed.

"Around 3,500 buildings collapsed in this county alone," Shen Guirong, director of the propaganda department in Xinshao district, told AFP.

"Telecommunications, transportation and water supplies are not working. It will take time to restore them.

"We need medicine to treat those who are injured. They were hurt when the buildings collapsed. We don't know how many are injured, we are still gathering details."

Officials in the county were later ordered not to speak with foreign media.

"We fear talking about this with the foreign media," said Shen, citing warnings by provincial leaders who had arrived at the scene.

At least 24 cities and counties in the province have been pounded by torrential rains since May 30. Xinhua news agency reported Thursday that more than five centimetres (two inches) of rain had fallen on Hunan in the past 24 hours.

Taizhimiao village in Xinshao county was one of the worst hit and more than 400 villagers were stranded there with bridges and roads all destroyed by floods, Xinhua said.

The local government was trying to erect a temporary bridge to rescue the stranded villagers.

Two township officials died when their vehicle was washed away by flood waters as they were organising rescue work, The Beijing News reported. Seven people were in the vehicle and only one escaped, it said.

The newspaper identified the officials as Tang Fei, the township's chief executive, and Li Yinghui, the local vice secretary of the communist party.

Thousands of people perish every year from floods, landslides and mudflows in China, with millions left homeless, but officials have warned this year could be worse than usual.

A top official at the China Meteorological Administration, Qin Dahe, warned last month of an "apocalyptic" summer of severe drought and floods.

"China may face a grim situation from seasonal floods or drought this year with potential damage worse than that of last year," he said.

The China Daily, citing Qin, reported Thursday that two massive rain belts were predicted from the south along the Yangtze River to the north on the middle and upper reaches of the Yellow River.

Minister of Water Resources Wang Shucheng urged local governments in flood-prone areas to get anti-flood precautionary schemes ready and prepare for the worst. The flood season officially began in China Wednesday.





Today's Top News
Top China News

China opposes UNSC enlargement with Japan




Over 70 dead as floods destroy many homes




IOC: All's well on Olympic construction




Small carmakers rise in large China market




Pollution blights many cities in China




Koizumi hints at shrine visit plan, again