Death toll rises to 68 in south China floods
(Xinhua)
Updated: 2005-06-03 08:48
Heavy rainstorm and ensuing mountain torrents in three Chinese provinces claimed 68 lives and left 62 still missing, according to the State Flood Control and Drought Relief Headquarters Thursday.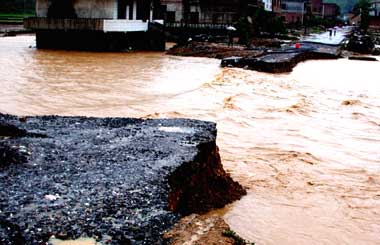 A section of highway in Loudi, Hunan Province was damaged in the mountain torrents. [newsphoto]


By 8:00 a.m. of Thursday, about 217,100 hectares of farmland were destroyed and more than 36,000 houses toppled in Hunan in central China and Sichuan and Guizhou in southwest China.

The disasters left 47 dead and 53 missing in Hunan, 17 dead andfour missing in Guizhou and four dead and five missing in Sichuan,the headquarters said.

Downpour hit the three provinces since Tuesday. In the city of Huaihua, Hunan province, the 24 hour precipitation amounted to 201mm in Xinshao County. The rainstorms also triggered mountain torrents of various scale in the three provinces.

Vice Premier Hui Liangyu, also the chief of the State Flood Control and Drought Relief Headquarters, ordered the governments at all levels in the disaster-hit areas to quickly organize the disaster relief work, relocate the homeless people and safeguard the safety of the local reservoirs.

Hui asked the local governments to further improve their emergency plans against the mountain torrents and strengthen the monitoring and forecasting of weather changes.

The State Flood Control and Drought Relief Headquarters issued an urgent notice Wednesday, asking the flood control departments at all levels to be on high alert against the possible future disasters.

Meanwhile, the Ministry of Civil Affairs also kicked off a planto allocate emergent relief fund and materials.

A working team composed of officials from several ministries, headed by Vice Minister of Civil Affairs Jia Zhibang, is rushing to Hunan to help the local disaster relief work.

In Hunan alone, the flooding has affected about 4.98 million people in eight cities including Shaoyang, Loudi, Yiyang, Huaihua and Tujia-Miao Autonomous Prefecture of Xiangxi in Hunan, cutting off power, traffic and telecom services in many affected villages.

The rainstorms triggered mountain torrents in about 60 villagesin six townships in Xinshao and Shaodong counties, affecting about60,000 people and destroying 3,560 houses, according to the latestfigures from Shaoyang Municipal Headquarters for Flood Control andDrought Relief.

The floods also hit more than 231,000 villagers in Xupu County in Huaihua, washing away 1,300 heads of livestock and destroying 8,200 hectares of farm land and 37 dikes, according to Huaihua Municipal Headquarters for Flood Control and Drought Relief.

The precipitation was about 50 millimeters in the last 24 hoursin Hunan in an area of 52,000 square kilometers.

The Hunan provincial government has earmarked 5 million yuan (about 602,409 US dollars) to help the affected areas and the Ministry of Communications has allocated 4 million yuan (481,927 US dollars) for disaster relief.






Today's Top News
Top China News

China opposes UNSC enlargement with Japan




Death toll rises to 68 in south China floods




IOC: All's well on Olympic construction




Small carmakers rise in large China market




Pollution blights many cities in China




Koizumi hints at shrine visit plan, again