Israel releases 398 Palestinian prisoners
(Agencies)
Updated: 2005-06-03 08:31
Israel freed 398 jailed militants Thursday, fulfilling a months-old pledge that officials hope will bolster Palestinian leader Mahmoud Abbas and his moderate allies as they contest with radical groups for support among Palestinians.
The release, which came just hours after an agreement for the Israeli and Palestinian leaders to meet later this month, could help ease the way for the two sides to coordinate Israel's planned withdrawal from the Gaza Strip.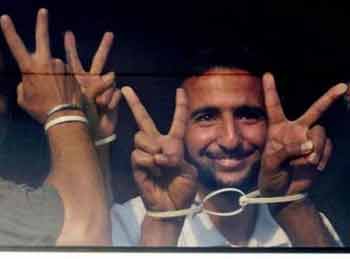 A Palestinian prisoner flashes the v-sign as he is seen on a bus prior to leaving the Ketziot prison near the southern Israeli city of Beersheba, early Thursday, June 2, 2005.[AP]

Pledges to work together on the pullout, which Israel originally planned as a unilateral move, have so far gone nowhere. The withdrawal is scheduled to begin in mid-August.

Abbas, 70, left a Jordanian hospital Thursday, a day after having his coronary arteries checked for clogs. Palestinian officials said Abbas would be able to proceed with the June 21 meeting with Israeli Prime Minister Ariel Sharon ¡ª their first since a February summit at which they declared a truce.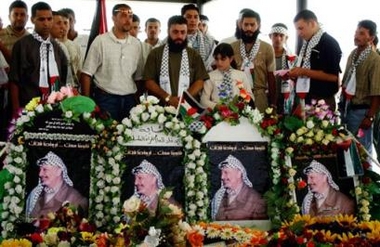 Palestinian former prisoners pay their respects at the grave of the late Palestinian leader Yasser Arafat at his former headquarters in the West Bank city of Ramallah, Thursday June 2, 2005. [AP]

"Things are just fine and I'm in very good health," a smiling Abbas told reporters at the hospital.

Abbas has made the release of Palestinian prisoners one of his top priorities. With about 7,500 Palestinians still in Israeli prisons, many Palestinians have friends or relatives behind bars, and their fate is a deeply emotional issue. Cheering crowds welcomed the freed militants Thursday.

For the first time Thursday, Israel released nearly 90 prisoners who had served just a fraction of their sentences. Some of those freed had been charged with attempted shootings and preparing explosives, but most were jailed for nonviolent offenses, and Israeli officials said none had "blood on their hands."

Israel said the release was part of an effort to strengthen Abbas, whose Fatah party is facing a strong challenge from Hamas, a militant Islamic group responsible for dozens of suicide bombings against Israelis.

Israeli officials have expressed concern about growing support for Hamas. Though they have complaints about Abbas' reluctance to crack down on militants, they prefer to work with a strengthened Fatah rather than facing a powerful Hamas as a political force.

"The prisoner release is geared to bolster Mahmoud Abbas and the moderate elements in the Palestinian Authority," said David Baker, a Sharon spokesman. "We do hope that the Palestinians also follow through on their commitments, specifically taking countermeasures to thwart terror attacks against Israel."

Israel agreed to release 900 militants under the Feb. 8 cease-fire. It freed 500 in February, but repeatedly delayed the second release, demanding Abbas rein in extremist groups.

The 398 prisoners released Thursday were met with a wave of joy throughout the West Bank and Gaza Strip ¡ª but also complaints that thousands remained locked up, including uprising leaders.

Those freed in the West Bank town of Tulkarem flashed victory signs, praised God and kissed the ground as they got off Israeli buses. Girls showered the men with candy as they were reunited with cheering relatives, some of whom had prepared feasts.

Thousands celebrated the release in the nearby city of Nablus, a militant stronghold, and dozens of masked men fired guns into the air.

Sami Abu Nahal, 42, who was freed at the Erez crossing into Gaza, said he was looking forward to meeting his 4-year-old daughter for the first time.

"I can smell the freedom. I am happy to see my daughter, Wala," said Abu Nahal. "But at the same time, I'm feeling sad because I left friends and brothers inside the Israeli jails."

Saeb Erekat, a senior Palestinian official, welcomed the release, but said Israel must do more.

"I think it's making 400 Palestinian families happy today, and I hope that we can also make happy the other 8,000 families who are concerned about their loved ones," he said.

The Palestinians want Israel to release all the prisoners, while Israel refuses to free anyone directly involved in attacks that injured or killed Israelis. Palestinians complained that in past releases, Israel freed only prisoners who committed minor offenses and were near the end of their sentences.

Musa Kuran, 41, of Nablus, served five years of a nine-year sentence. He credited Abbas with securing his freedom.

"I'm sad that my friends are still inside, but I trust that Abu Mazen will free them the way he freed me. He's smart enough to get them out," he said, referring to Abbas by his nickname.




Today's Top News
Top World News

China opposes UNSC enlargement with Japan




Pollution blights many cities in China




Gutierrez talks to focus on textiles




IOC: All's well on Olympic construction




Small carmakers rise in large China market




At least 67 dead in flooding, mudslides