China, India and Russia join forces to boost security
(Agencies)
Updated: 2005-06-02 15:37
VLADIVOSTOK, Russia - China, India and Russia will join forces to boost regional stability and energy supplies, foreign ministers of the three countries declared at the outset of a summit in Vladivostok in Russia's Far East.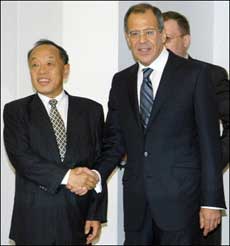 Russian Foreign Minister Sergei Lavrov (R) shakes hands with his Chinese counterpart Li Zhaoxing during their meeting in Vladivostok. [AFP]

"We look forward to having a fruitful dicussion of trilateral cooperation of our countries especially as it relates to promoting regional and international stability," Russian Foreign Minister Sergei Lavrov said.

The three countries have long held trilateral talks but the Vladivostok summit is the first to be held outside an international forum.

On Wednesday, Lavrov held one-on-one talks with his Chinese counterpart Li Zhaoxing to discuss ways to avoid "destabilisation" of Central Asia where Kyrgyzstan and Uzbekistan have experienced considerable unrest in recent months.

"Though informal, this meeting is as important as any formal meeting... for maintaining the common interests of the three countries' people as well as making pour own contribution to... world peace and international stability," Li said before Thursday's meeting.

"We attach great importance to this particular meeting. We together have a population of 40 percent of the world and we are, I think, 20 percent of world GDP," India's Foreign Minister Natwar Singh pointed out.

"Our requirements in the realm of energy are" considerable "and we look to your country for... assistance," he added, addressing Russia.

China and India, with their economic and demographic boom, and Russia with its huge crude and gas resources, are believed to gain greatly if they expand cooperation and trade.

The Indian and Russian ministers are also due to hold bilateral talks.

China and Russia sign border agreement

Russia and China signed a final agreement on their shared border, putting an end to 40 years of negotiations.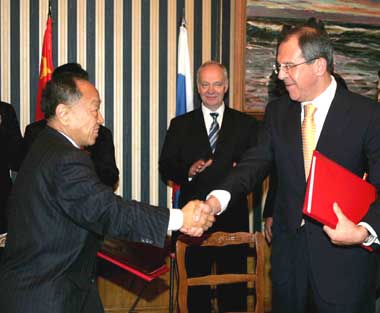 Chinese Foreign Minister Li Zhaoxing (left) shakes hands with his Russian counterpart Sergei Lavrov after signing and exchanging an addition to the border agreement June 2, 2005 in Vladivostok. [Xinhua]

Russian Foreign Minister Sergei Lavrov and his Chinese counterpart Li Zhaoxing signed and exchanged an addition to their existing accord during talks in Russia's Far Eastern city of Vladivostok.

The addition concerned the eastern end of the joint border, defining two percent of the total 4,300 kilometers of the Sino-Russian frontier, stretching through several islands in the Khabarovsk region.

"We are very happy to have exchanged ratification documents by our parliaments regarding our eastern border. This puts an end to a long process of negotiations that had been held for 40 years by our countries," Lavrov said.

In his turn Li called on their audience to "remember this day of June 2, 2005," to stress the historic nature of the accord.

Beijing and Moscow signed their first accord on demarkation of their Far East borders during Russian President Vladimir Putin's October visit to China -- with Putin qualifying the accord as a "vital step forward" as "the total of common border had been legally defined for the first time in the history of Russo-Chinese relations."




Today's Top News
Top World News

China, India and Russia join forces to boost security




China will not link yuan to textiles row




Death toll rises to 47 in Hunan floods




GM to build $387m engine plant in China




China too reliant on exports - economists




Government reveals plan to combat AIDS