GM to build $387m engine plant in China
(Agencies)
Updated: 2005-06-02 13:39
General Motors Corp., the world's top auto maker, will build a $387 million engine plant in China and buy a small vehicle producer there, as the U.S. firm seeks more sales in a market suffering slowing growth.

The Detroit giant said on Thursday that, along with its local partners, it would invest 3.2 billion yuan ($387 million) in an engine factory in the southwestern city of Liuzhou, part of an original $3 billion investment blueprint.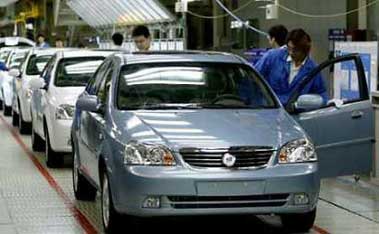 Workers work at a production line at the General Motors Corp.'s new plant in Shanghai May 28, 2005. GM announced June 2 that it build a $387 million engine plant in China. [newsphoto]

And it signed an agreement to buy bit player Etsong (Qingdao) Vehicle Manufacturing Co. Ltd and convert it into a plant that will begin building mini-vehicles by the second half this year, with an initial annual capacity for between 60,000 and 70,000 units.

GM, which replaced its China chief in March, has unveiled moves this year to catch Volkswagen A.G., the reigning market leader in the country. Both count China among their three biggest markets, but GM with its roughly 10 percent market share still trails Volkswagen's 13 to 25 percent.

Last week, GM opened a plant in its Shanghai base that brought nationwide capacity to almost half a million units.

"Mini-vehicles account for 25 percent of all vehicles sold in China and remain one of the fastest-growing market segments," Kevin Wale, GM's new China president, said in a statement.

"In 2005, sales are expected to exceed 1 million units."

China has been a rare bright spot for embattled GM, but growth in the world's third-largest vehicle market began slowing in the middle of last year when Beijing stepped up curbs on easy car loans and implemented other measures to cool the economy.

Before that, sales had averaged double-digit growth as a growing middle class got behind the wheel.

Global auto makers including Ford Motor Co., Nissan Motor Co. Ltd. and Toyota Motor Corp. are investing $15 billion to triple annual production in China to 7 million cars by 2008, triggering fears of a glut.

To make things worse, a growing number of car makers are offering discounts to carve out market share. In March, GM slashed the prices of two Buick models in China by up to 15 percent to counter a move by Honda Motor.

Yet the U.S. firm is sticking with a plan to invest more than $3 billion with Chinese partners to double capacity in the country to 1.3 million units by 2007, betting that the market will recover in the second half of 2005.

The engine plant in Liuzhou is expected to be completed by 2007 and will have initial annual capacity of 300,000 units.

Volkswagen posted a 6 percent drop in sales at its two Chinese ventures in 2004. GM posted a 27 percent rise in Chinese vehicle sales in 2004, though that was little more than half the pace it set in 2003.




Today's Top News
Top China News

Government reveals plan to combat AIDS




Taipei urged to talk on mainland gifts




22 die in Hunan mountain torrents




GM to build $387m engine plant in China




Badawi raps US-Japan view of China as threat




Dutch voters reject EU constitution