Top 35 beauties in the world?
(Agencies)
Updated: 2005-06-02 10:59
What is beauty? There is far more to the question than meets the eye. "Beauty is truth, truth beauty. That is all ye know on earth, and all ye need to know," John Keats so confidently declared.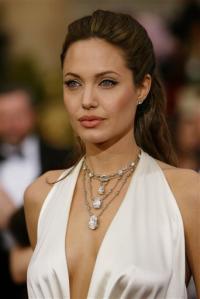 Angelina Jolie is voted to be the top beauty in the world. [AP]

But the truth is that beauty is a deeply tangled problem - and debating its definition can raise some pretty ugly arguments.

Certainly the philosophers, artists and poets who, over the centuries, have set out to present or explain it have achieved no consensus, as Umber to Eco's recent publication of a vast and heterogeneous compendium of opinions on the subject has once again reaffirmed.

Anyone from Xenophon to Baudelaire, from Sappho to Shakespeare has offered an opinion.

For Polykleitus writing his (now lost) canon, beauty was found in a system of mathematically defined proportion. For Picasso, there was no such thing as beauty at all.

For Botticelli, Venus was an ethereally lyrical, slippery-hipped sylph, for Rubens she was a rubicund sensualist revelling in a luscious spillage of fat.

In ancient and medieval times, it may have been viewed more as a mental or spiritual quality than a physical property, but once the Renaissance had arrived and the modern world as we understand it was beginning to take shape, ideals of beauty were increasingly dependent on the endlessly mutating vagaries of fashion and style. Capitalism has become a more powerful ethos than Christianity. Beauty has become a commodity.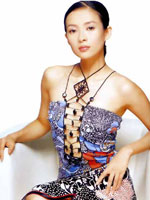 Chinese actress Zhang Ziyi also made the top beauty list, ranking 15. [Xinhua]

There is no one ideal. Images range from the cheetah-limbed litheness of Christie Turlington to the wrinkling dignity of Charlotte Rampling, from the polished Oriental smoothness of Zhang Ziyi to the dark voluptuous curves of Nigella Lawson, and at the top of the Harpers and Queen list, the actress Angelina Jolie.

What they share is success. They are touting that most lucrative of commodities: unsatisfied desire. They are selling an impossible perfection that, even if we could reach it, would slip away with the onset of the next style.

When Zeuxis set out to depict the legendary, ship-launching beauty of Helen of Troy, he amalgamated five different faces, like some classical photo-fit. The finished image is now lost.

This only goes to prove that no one is the most beautiful woman in the world.

The Top 35:

1: Angelina Jolie;

2: Christy Turlington;

3: Queen Rania of Jordan;

4: Sofia Coppola;

5: Nigella Lawson;

6: Uma Thurman;

7: Emmanuelle Beart;

8: Kate Moss;

9: Aishwarya Rai;

10: Princess Charlotte, Monaco;

11: Charlotte Rampling;

12: Beyonce Knowles;

13: Cate Blanchett;

14: Scarlett Johansson;

15: Zhang Ziyi;

16: Sophie Dahl;

17: Natalie Portman;

18: Liv Tyler;

19: Gisele Bundchen;

20: Jennifer Connelly

21: Natalia Vodianova;

22: Dita Von Teese;

23: Julie Christie;

24: Margherita Missoni;

25: Gwen Stefani;

26: Daria Werbowy;

27: Sienna Miller;

28 Padma Lakshmi;

29: Stephanie Seymour;

30: Zadie Smith;

31: Thandie Newton;

32: Vanessa Redgrave;

33: Saffron Burrows;

34: Bee Shaffer;

35: Rachel Weisz.




| | |
| --- | --- |
| | |
| Miss Canada Natalie Glebova wins Miss Universe title | |

| | |
| --- | --- |
| | |
| Britney, Kevin need viewers | |

| | |
| --- | --- |
| | |
| Taiwan talk-show hostess Small S to be engaged | |
Today's Top News
Top Life News

Government reveals plan to combat AIDS




Taipei urged to talk on mainland gifts




22 die in Hunan mountain torrents




GM to build $387m engine plant in China




Badawi raps US-Japan view of China as threat




Dutch voters reject EU constitution