22 die in Hunan mountain torrents
By Liang Chao (China Daily)
Updated: 2005-06-02 06:05
At least 22 people have died and 35 are still missing after torrential rain in Hunan Province flooded mountain villages that collapsed while their occupants were asleep.
Almost 55,000 people have been affected.
All communication, traffic and power lines have been cut to Taizhimiao Township - the worst-hit township - in Xinshao County.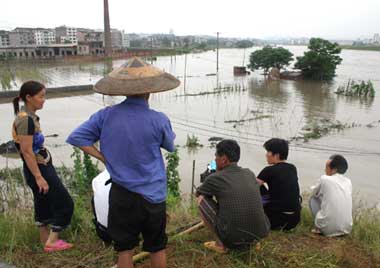 Villagers stand by the Lianhe River as their houses are submerged by flood water in Loudi city, central China's Hunan province, June 1, 2005. [newsphoto]

The Beijing-based State Flood-Control and Drought Relief Headquarters verified report on the season's disasters in western parts of the central province.

"Downpours have, since Tuesday, pounded 24 counties and cities across the province with daily precipitation recorded in five of them up to 100 millimetres," sources for the headquarters said.

"Torrents of water rushed down the mountain in the small hours, flooding houses in 10 villages dotted across three townships of the province's Xinshao County, with more than 30 houses collapsing on farmers who were fast asleep," local sources said.

"Damage caused by the disaster is still under investigation," the sources said, adding that disaster relief operations have been sent by local authorities.

The flood season has begun in South China, while nationwide the rains are expected over the next three months, accompanied by typhoons on coastal areas.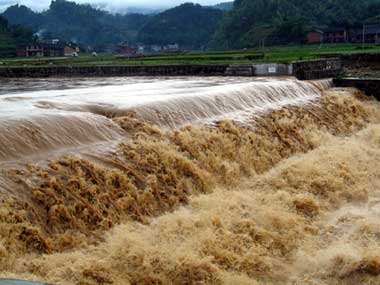 Mountain torrents rush down in Loudi city, Hunan province June 1, 2005. [newsphoto]

"From June to August, two massive rain belts are predicted from the south along the Yangtze River to the north on the middle and upper reaches of the Yellow River," said Qin Dahe, a top official of the China Meteorological Administration.

In the north, the rain belt is likely to hit the Inner Mongolia Autonomous Region, northern Xinjiang Uygur Autonomous Region and southern parts of Northeast China.

In the south, rains are expected to hang over the Yunnan-Guizhou Plateau, vast areas between the Huaihe and Yangtze rivers, and regions south of the Yangtze with potential flooding likely to batter the middle and lower reaches.

Minister of Water Resources Wang Shucheng urged local governments in flood-prone areas to get their anti-flood precautionary schemes ready and prepared for possible worse floods this summer.

(China Daily 06/02/2005 page2)




Today's Top News
Top China News

China, India and Russia join forces to boost security




China will not link yuan to textiles row




Death toll rises to 47 in Hunan floods




GM to build $387m engine plant in China




China too reliant on exports - economists




Government reveals plan to combat AIDS