Seoul: Distrust delaying nuclear talks
(Agencies)
Updated: 2005-06-01 16:46
Distrust between Washington and Pyongyang is impeding efforts to revive talks on North Korea's nuclear program, despite a recent, but rare, meeting of their officials, South Korea said on Wednesday.
South Korean Foreign Minister Ban Ki-moon told a news conference that Pyongyang and Washington remained divided even though the two sides held a face-to-face meeting last month at the United Nations.
"Despite efforts to clear distrust between the United States and North Korea, the situation is not evolving in a favorable way," Ban said at his weekly press briefing.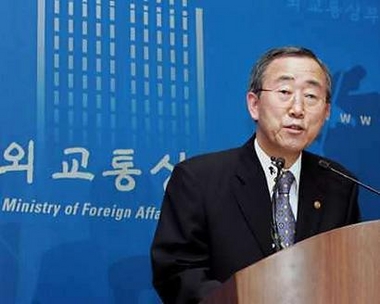 South Korea's Foreign Minister Ban Ki-moon answers a reporter's question during a news conference at the ministry headquarters in Seoul June 1. [Reuters]

He said US President Bush's comments on Tuesday -- that there were still diplomatic options available to persuade North Korea to abandon its nuclear ambitions -- were helpful.

"It's either diplomacy or military. And I am for the diplomacy approach," Bush told reporters in Washington.

U.S. officials have said that patience is wearing thin with Pyongyang, which has boycotted the six-nation talks aimed at dismantling its nuclear weapons program, for almost a year.

"It is meaningful in that President Bush reaffirmed his stance to resolve the issue in a peaceful and diplomatic manner," Ban said.

In February, North Korea said it possessed nuclear weapons. Concerns that Pyongyang may soon conduct a nuclear test have added impetus to resume the talks that include North and South Korea, China, Japan, Russia and the United States.

Bush will meet South Korean President Roh Moo-hyun on June 10 in Washington to discuss ways to revive the six-party talks.




Today's Top News
Top World News

China may use foreign exchange reserves to buy oil




Mines to appoint veterans as Guardian Angels




Bush: US sees China as economic opportunity




Identity of 'Deep Throat' source confirmed




Mainland to select giant pandas for Taiwan




Resource talks with Japan sail on - FM