Clinton accused of raping nurse in new book
(Agencies)
Updated: 2005-06-01 10:33
Former US President BILL CLINTON has been accused of raping a nurse, in a shocking new book.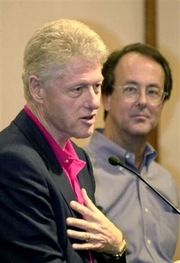 Bill Clinton, former U.S. President and U.N. special envoy for post-tsunami reconstruction, left, speaks, as Erskine Bowles, deputy special envoy for post-tsunami reconstruction looks on, during a press conference in Colombo, Sri Lanka, Saturday, May 28, 2005. [AP]

Lawyer CANDICE E JACKSON was so disgusted Clinton virtually ignored his infidelities in his bestselling autobiography MY LIFE, she wrote THEIR LIVES - THE WOMEN TARGETED BY THE CLINTON MACHINE, to expose several women she claims he sexually abused.

Jackson's controversial tome focuses on seven women, including Clinton's alleged mistress, GENNIFER FLOWERS, radio host SALLY PERDUE, White House intern MONICA LEWINSKY and the alleged rape victim, JUANITA BROADDRICK.

Broaddrick says she met Clinton - then the Arkansas Attorney General - in 1978, when he made a campaign stop at the nursing home where she worked.

And she alleges he asked if he could have a coffee with her in her hotel room to avoid reporters, but when she let him in, he reportedly forced her onto the bed and raped her.

She claims she met him again in 1991, weeks before he announced his Democratic Party candidacy for Presidency, and attempted a profuse apology - he later gave her a position on a state quango concerned with nursing homes.

Broaddrick told Jackson, "It was a really panicky situation. I was even at the point where I was getting very noisy, you know, yelling to please stop.

And that's when (Clinton) pressed down on my right shoulder and he bit my lip.

"When everything was over with, he got up and straightened himself, and I was crying at that moment. He walked to the door and calmly put on his sunglasses.

And before he went out the door, he said, 'You'd better put some ice on that.'"







| | |
| --- | --- |
| | |
| Miss Canada Natalie Glebova wins Miss Universe title | |

| | |
| --- | --- |
| | |
| Britney, Kevin need viewers | |

| | |
| --- | --- |
| | |
| Taiwan talk-show hostess Small S to be engaged | |
Today's Top News
Top Life News

Government reveals plan to combat AIDS




Taipei urged to talk on mainland gifts




22 die in Hunan mountain torrents




GM to build $387m engine plant in China




Badawi raps US-Japan view of China as threat




Dutch voters reject EU constitution