Taiwan talk-show hostess Small S to be engaged
(Shenzhen Daily)
Updated: 2005-06-01 09:25
The younger sister of the Taiwan female musical duo ASOS, Hsu Xidi, also known as Small S, confirmed Monday that she would be engaged in June after media reports on her acceptance of her boyfriend's proposal two months before.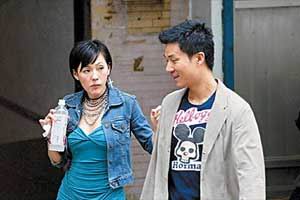 Small S is seen in this photo together with her fiance Mike walking on the street. [baidu]
Small S admitted she wanted to marry and give birth to a baby soon. The singer and popular TV talk-show hostess said that she and her boyfriend, Mike Xu, had maintained good relations since they started dating about a year ago.
She visited Xu's parents in Los Angeles when the love birds spent their holidays there last September.
Xu, 35, who works in the financial industry, first appeared in public as Hsu's boyfriend when he cheered for her performance at a dance show in Taiwan on April 9.
Small S' mother and elder sister, Big S (Hsu Xiyuan), first opposed the engagement, as they thought it was too hasty for the two to marry. However, Xu finally won their approval with his sincere love for the youngest daughter of the Hsu family.
As for her plans after marriage, both Xu and Small S thought she should stay in show business.
Small S is best known for her quick-witted and forthright commentary on the talk show "Kangxi Come."
She first appeared in show business with the musical group ASOS, composed of her and her elder sister Big S.