Saudi King's health said to be improving
(Agencies)
Updated: 2005-06-01 09:12
King Fahd's health is continuing to improve and he soon will be discharged from a Saudi hospital, the kingdom's defense minister said Tuesday.
Fahd was admitted Friday to King Faisal Specialist Hospital in Riyadh for unspecified medical tests, suffering from pneumonia and a fever, officials said.
"The king will leave the hospital soon. It is up to the doctors, but God willing, he will leave soon," Defense Minister Prince Sultan said, according to the official Saudi Press Agency.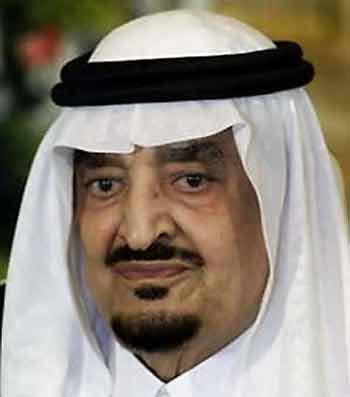 Saudi Arabian King Fahd Bin Abdul Aziz al-Saoud is seen during the visit of Lebanese President Emile Lahoud to Jeddah in this April 15, 2000 file photo. Saudi Arabia's King Fahd's health is 'well and progressing' and he could leave hospital soon, Saudi Defense Minister Prince Sultan said on May 31st. [Reuters]

Saudis have closely followed health updates on the king, believed to be 82, who brought the oil-rich kingdom closer to the United States during more than two decades as monarch.

Fahd, king since 1982, suffered a debilitating stroke in 1995 that confined him mainly to a figurehead role. His half brother, Abdullah, has been Saudi Arabia's de facto leader since then and is expected to become king if Fahd dies. Both are sons of the founder of modern Saudi Arabia, King Abdul-Aziz.

Saudi Arabia's strategic importance as the nation with the world's largest oil reserves and the home of Islam's two holiest shrines means even a stable succession could affect world markets and have widespread political fallout.

The Saudi stock market tumbled 5 percent earlier in the week amid reports of Fahd's deteriorating health. His hospitalization Friday helped push crude oil futures to near $52 a barrel.

During his rule, Fahd's most significant action enraged many Islamic extremists ¡ª allowing the basing of U.S. troops on Saudi soil after the 1990 Iraqi invasion of Kuwait.

Osama bin Laden, the Saudi-born al-Qaida leader, cited the U.S. troops' presence as a main provocation for launching the Sept. 11 attacks and a wave of violence inside the kingdom.

The U.S. military withdrew all its combat forces from Saudi Arabia in 2003 after major combat operations in Iraq were declared over. But a small military contingent stayed behind in a training and advisory role to Saudi armed forces.




Today's Top News
Top World News

China may use foreign exchange reserves to buy oil




Mines to appoint veterans as Guardian Angels




Resource talks with Japan sail on - FM




Economists call for removal of trade barriers




Identity of 'Deep Throat' source confirmed




Villepin replaces Raffarin as French PM