Owen's hat trick lifts England over Colombia
(Agencies)
Updated: 2005-06-01 08:54

Michael Owen scored three goals to spark England past Colombia 3-2 in a football friendly in East Rutherford, the United States, giving the English their hat-trick since 2001 and a sweep of their two-game US tour.

The 25-year-old Real Madrid forward rose to fourth on the all-time England goal list with his 30th, 31st and 32nd career goals for his homeland, which has never lost to Colombia, improving to 3-0 with two drawn.

"It's nice to come off after that one," Owen said. "It's my last game for a while, and I had a great one."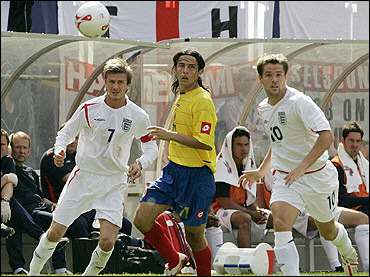 England's David Beckham (L) watches a kick with teammate Michael Owen (R) and Colombia's Elkin Soto during their friendly match between England and Colombia Tuesday, May 31, 2005 in East Rutherford, NJ. England won 3-2. [AFP]

Owen completed his hat trick in the 58th minute to give England a 3-1 lead when Real Madrid teammate David Beckham sent a perfect cross from the right wing and a leaping Owen nudged the ball into the net with his right leg.

"David gave me a great crossing ball," Owen said. "It sure makes your job a lot easier with him on the field."

It was the first hat trick for England since Owen's remarkable three-goal effort in a 5-1 victory at Germany in 2001.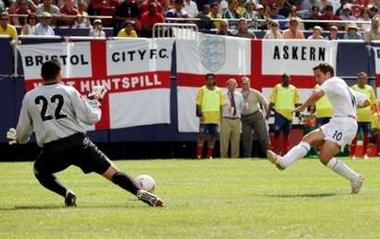 Michael Owen of the English National Team (R) shoots and scores his second goal of the game past goalkeeper Farid Mondragon of the Colombian National Team during the first half of their friendly match at Giants Stadium in East Rutherford, New Jersey, May 31, 2005. [Reuters]

"The best three goals of my life were in Germany," Owen said.

The 25-year-old forward, earning his 70th England cap, now has 32 goals for England, ranking fourth on the all-time list behind legends Gary Lineker, Bobby Charlton and Jimmy Greaves.

"That is my job," Owen said. "I'm not mediocre. Scoring goals is 100 percent of my job. There are no other things."

Owen's first goal came in the 36th minute. Chelsea midfielder Joe Cole chipped the ball past three Colombian defenders to find Owen alone in the centre of the penalty area, setting up his first goal.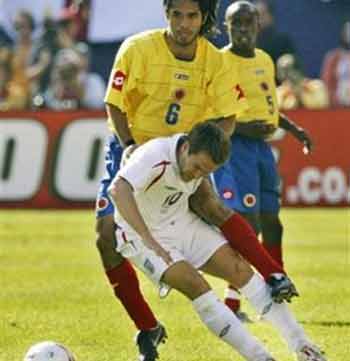 England's Michael Owen (10) battles for the ball with Colombia's Fabian Vargas during the second half of their international friendly match at Giants Stadium, Tuesday, May 31, 2005, in East Rutherford, N.J. Owen scored three goals in their 3-2 win. [AP]

"I always like to get the first one," Owen said. "The first one leads to the second one. You are able to get the next opportunity."

Owen found the net again in the 44th minute when Beckham found him on the right side of the box. Owen beat Colombian goalkeeper Farid Mondragon to give England a 2-0 lead.

"He was amazing," Beckham said. "He had a really great game. It was something special. It was good to have someone do something like that for England."

Colombia halved the margin in the 45th minute as Paris St. Germain defender Mario Yepes nodded down a corner kick in the penalty area and the ball dribbled past Cole and goalkeeper David James and just inside the left post.

James, whose US starts were his first since a blunder that allowed Austria a home draw in World Cup qualifying last year, was replaced by Norwich City's Robert Green in the second half as England

Green became the fifth player to make his England debut on the tour, joining striker Peter Crouch, defenders Zat Knight and Luke Young and Kieran Richardson, who scored twice in a 2-1 win Saturday over the United States.

Green nearly allowed a shocker in the 63rd minute when a ball that clanged off the crossbar hit him in the back and rolled precariously along the goal line. Green grabbed the ball before it rolled across the line.

Luis Perea was denied from a header by Green's right hander just inside the right post in the 68th minute but Aldo Ramirez, who came on in the 72nd minute, beat Green in the 79th minute to keep Colombia within reach.

"Every time we scored, they came back," Beckham said. "It was a very entertaining match."

The Colombians, who had scored only one goal against England in four prior matches, nearly leveled in injury time but substitute Edixon Perea slid a shot from the right side of the penalty area across the front of the goal and just beyond the far post.

England's two-game American visit was their first since 1993.

"We gave a lot of our younger players a lot of experience," Owen said. "That will help a lot looking to the World Cup."

The English squad returns to 2006 World Cup qualifying in September while Colombia's bid to reach Germany next year resumes Saturday at home against Peru.




| | |
| --- | --- |
| | |
| Suns stop Spurs | |

| | |
| --- | --- |
| | |
| IOC inspects construction sites in Beijing | |

| | |
| --- | --- |
| | |
| David Beckham to join England's squad in game against Colombia | |
Today's Top News
Top Sports News

China may use foreign exchange reserves to buy oil




Mines to appoint veterans as Guardian Angels




Resource talks with Japan sail on - FM




Economists call for removal of trade barriers




Identity of 'Deep Throat' source confirmed




Villepin replaces Raffarin as French PM