Resource talks with Japan sail on - FM
By Qin Jize (China Daily)
Updated: 2005-06-01 00:35
China and Japan agreed to discuss drilling rights in the resource-rich East China Sea when the talks move to Tokyo, Foreign Ministry spokesman Kong Quan said yesterday.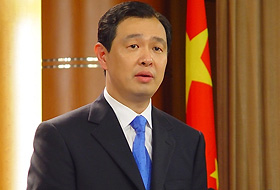 FM spokesman Kong Quan answers question at the regular press conference on May 31, 2005. [fmprc.gov.cn]

The announcement came after latest discussions between the two nations to try to resolve a dispute over the rights to explore for marine gas and oil.

Though the talks failed to reach any specific agreement, Kong described the meeting as "beneficial" and atmosphere "pragmatic."

He said both sides expressed their own concerns and exchanged deep views, including establishing a demarcation line and joint exploitation.

The Japanese team was led by Kenichiro Sasae, director general of the foreign ministry's Asia and Oceania Bureau. They also met with Vice-Foreign Minister Wu Dawei yesterday afternoon.

China's negotiators were led by Cui Tiankai, director general of the Chinese foreign ministry's Department of Asian Affairs.

Japan asked Chinese companies to stop drilling in a certain area. Kong referred to a United Nations convention covering maritime issues.

"The exploration is in China's indisputable coastal waters, and it is a matter within the scope of our sovereignty," said Kong, adding this point had been made clear during the talks.

He also urged Japan to take up China's proposal to co-operate on a joint-exploitation project, an issue that has been extensively discussed in the talks.

"We hope Japan can seriously consider and look into China's suggestion," he said.

Kong said the two sides agreed to negotiate to narrow the differences on the consensus that the two top leaders reached in Jakarta in April during the Asia-Africa Summit.

He said it was important not to let the dispute sour the relations.

"I think what's most important ... is to actively look into ways to resolve differences to prevent new interference that could impact the overall friendly relations between China and Japan," Kong said.

There are reports that Japanese Chief Cabinet Secretary Hiroyuki Hosoda said Japan intends to negotiate with China over Beijing's proposal for joint development of natural gas in the East China Sea.

Both China and Japan claim 200 sea miles of disputed water in the narrow area.

The spokesman also denounced the remarks by Japanese political figures about Class A criminals, saying they make people question what kind of role Japan wants to play in the international community.

Kong's comment came after Masahiro Morioka, parliamentary secretary for health, labour and welfare, posted a story on his personal website saying Class A war criminals convicted by the International Military Tribunal for the Far East after World War II were not considered criminals in Japan.




Today's Top News
Top China News

Mines to appoint veterans as Guardian Angels




Resource talks with Japan sail on - FM




Economists call for removal of trade barriers




Villepin replaces Raffarin as French PM




China can sustain 8% growth for next decade




China may use forex funds to buy oil