Mines to appoint veterans as Guardian Angels
By Fu Jin (China Daily)
Updated: 2005-06-01 00:35
Miners are to form their own safety inspection task force to stamp out the appalling catalogue of needless pit deaths.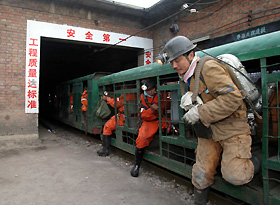 Rescuers walk off the train in a coal mine in Chengde, North China's Hebei Province on May 20, 2005. A blast at the mine a day earlier killed 45 miners. [newsphoto]

Under a new scheme, about 100,000 senior coal miners will be designated as safety supervisors.

They will possess the power to down tools and leave the coal face if they feel their and their colleagues' lives are at risk.

They will help train, assist and produce China's one million miners.

The unprecedented safety measure will be jointly implemented by the end of the year by All-China Federation of Trade Unions (ACFTU) and the State Administration of Work Safety.

With the first appointments to be made later this month, the scheme is part of the central government's drive to improve the grim work place conditions in China's mines.

"The veteran workers will help protect younger or less experienced miners without enough education of safety conditions," Zhang Chengfu, ACFTU's department director, told a news conference.

The first batch of 200 safety inspectors will be appointed later this month in Shanxi, the richest province in China in terms of coal reserves and production.

The supervisors will conduct daily safety checks, train new miners and help lead fellow miners to safety should accidents occur.

He said mining trade unions across the nation "will make every effort" to appoint supervisors at China's 28,000 coal mines.

"It's hard to achieve the goal within the year but we will try hard to set up a safety umbrella for them as soon as possible," said Zhang.

Huang Shengchu, president of the China Coal Information Institute, said the measures will help improve working conditions.

"The most important thing is that farmers-turned-miners need training and guidance because they are less educated," said Huang.

Mining is dangerous and poorly paid. Miners earn meagre wages and only farmers from the poorest regions choose to work underground--often in death traps. Statistics indicate that most are from northern Sichuan, southern Shaanxi, and the mountainous regions of Jiangxi, Fujian and Henan provinces.

Poor safety equipment such as the lack of gas detectors to warn of explosive methane gas which lurks in many mines is widespread.

Mines known to be dangerous are reopened to meet demand -- and unscrupulous mine owners have a endless supply of cheap labour.

China Daily has reported that more than 1,100 miners lost their lives in the first three months of this year in scores of underground accidents--many of which may have been avoided had basic safety regulations been implemented.

In the last few weeks, over 70 mine deaths have been reported across the country. The central government has begun an offensive against the poor safety record.

At the end of last year, it said State-owned coal mines--which account for 70 per cent of national output--needed 50 billion yuan (US$6 billion) to improve safety.

The State Council has set up a group to study ways to prevent gas blasts--the number one killer.

Meanwhile, the government has dispatched inspection teams to key State-owned mines to oversee safety conditions.

It has also ordered mine owners to spend more on safety and increase compensation for families who lose their bread-winners.

Grim labour report

The ACFTU also expressed serious concerns about labour protection in small private companies.

The federation, citing a new report, said workers are well protected in private enterprises which used to be State-owned or of large scale.

"But in small private enterprises, the situation is really grim," the report cited.

After a 10-month survey in Shanghai and Tianjin, and Jiangsu and Zhejiang provinces where the private economy has been booming, the federation found that most private enterprises are poorly equipped.

Workers often work overtime without extra pay and employees are not given enough training.

"We are calling on the government to take effective measures to stop the trend," said the report.




Today's Top News
Top China News

Mines to appoint veterans as Guardian Angels




Resource talks with Japan sail on




Economists call for removal of trade barriers




Villepin replaces Raffarin as French PM




China can sustain 8% growth for next decade




China may use forex funds to buy oil