Don't miss the shrimp hiding in her navel
By Dwight Daniels (Shanghai Star)
Updated: 2005-05-31 09:15
It's quite amazing it took this long.
The State Administration of Industry and Commerce has finally banned Chinese restaurants from serving sushi on the naked bodies or young women.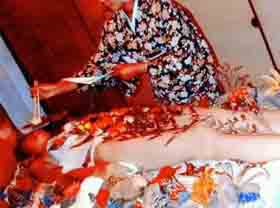 Body sushi originated in Japan and soon has spreaded throughout the world. [file photo]
The administration has officially issued a notice to a restaurant in southwestern China, which put the order into effect.
The restaurant was another in a string of eateries that has been found to be serving sushi on unclothed female university students, rather than on tables.
Slow or not, the officials have finally deemed that the practice of serving Japanese food on naked women is not up to China's standards of conduct because it "insults people's moral quality", the Beijing Times reported.
Serving such food on women's bodies also "spreads commercial activity with poor cultural attributes", the administra-tion's notice said, whatever that means. Not to mention that it's a bit demeaning to the women.
I had written an article about a year ago. It was then that some cutting-edge Chinese eateries decided to imitate this somewhat odd commercial behaviour long undertaken by the Japanese.
Avant garde restaurants have been seeing a renaissance in this business among male clientele in particular, with men reportedly attracted to such eateries both because of the tender and delicate seafood and the tender and delicate surfaces the food is served on.
As reported in April, 2004, the Hefeng Village Huaishi Cuisine Restaurant in Kunming, Yunnan Province, was serving sushi and other Japanese food on two prone naked university girls. Diners paid as much as 1,000 yuan (US$120) each for a meal. The deal was popular, with reservations required as much as three days in advance.
But serving seafood on women in the raw just didn't sound all that appealing to most Kunming residents. The restaurant soon cancelled the service.
To tell the truth, it didn't sound all that appealing to me, either. I love Sushi. But the idea of using my chopsticks to pick up slimy fish from a delicate and naked young woman's body wasn't as appealing as it sounded at first glance, especially for someone as klutzy as me.
Can you imagine dropping a piece of shrimp or rice-encrusted salmon just dipped in soy sauce from a nubile young woman's belly, or, well, you get the picture? What would I do then? Tell her: "Gee, excuse me miss. Let me just grab that with my knife and fork. I'm no good with these chopsticks. Sorry if that tickles a bit."
And late in my dinner, when I'd had a couple glasses of wine, I'd find it a bit tough to obey the rules of the house, which prohibited talking to the table, er, I mean girl.
How can a guy who loves conversation as much as I do resist chatting. I'd find myself just too darn tempted to talk to the woman who'd been doing her best to hold her breath so as to keep my seaweed soup from spilling on her tender skin.
"Tell me miss, how'd you get into this line of work? Is it to save some money for next semester? Do you need some help with your English? If so, I'm your man. We could go out to dinner. Oh, I forgot. We are out to dinner."
Oh, the heartbreak.
All because of those sensible bureaucrats at the State Administration of Industry and Commerce.

| | |
| --- | --- |
| | |
| Britney, Kevin need viewers | |

| | |
| --- | --- |
| | |
| Taiwan talk-show hostess Small S to be engaged | |

| | |
| --- | --- |
| | |
| Twins promote cosmetic products | |
Today's Top News
Top Life News

China may use foreign exchange reserves to buy oil




Mines to appoint veterans as Guardian Angels




Resource talks with Japan sail on - FM




Economists call for removal of trade barriers




Identity of 'Deep Throat' source confirmed




Villepin replaces Raffarin as French PM