New Zealand, China look for early FTA pact
By Qin Jize (China Daily)
Updated: 2005-05-31 05:37
Visiting New Zealand Prime Minister Helen Clark yesterday said her country is looking for an early agreement with China on a comprehensive free trade agreement (FTA).
Clark touched down in Beijing on Sunday for a three-day working visit, meeting President Hu Jintao and Premier Wen Jiabao yesterday to talk about the FTA issue and the enhancement of bilateral ties.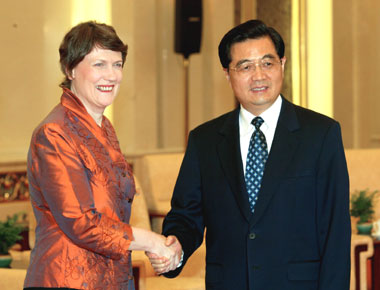 Chinese President Hu Jintao (right) shakes hands with visiting New Zealand Prime Minister Helen Clark in the Great Hall of the People in Beijing May 30, 2005. China and New Zealand expressed the desire to sign the FTA agreement as early as possible. [newsphoto]

Hu said the two countries have maintained stable development in recent years and China is determined to work with New Zealand to promote the comprehensive ties.

As Clark delivered her message that free trade talks must result in a comprehensive deal, Wen said China is willing to join hands with New Zealand to push forward negotiations on the basis of mutual respect and mutual interest and enhance mutual political trust.

Wen said he would like to see the two countries strengthen co-operation in agriculture, forestry, energy and resource exploitation and expand cultural and educational exchanges, saying trade and technological co-operation is the common desire of both sides.

He said China and New Zealand are important nations in the Asia-Pacific region and share broad common interests in maintaining regional peace and development, adding both sides should build closer co-ordination on regional and international issues.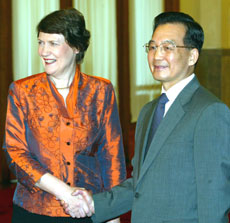 Chinese Premier Wen Jiabao (right) shakes hands with visiting New Zealand Prime Minister Helen Clark in the Great Hall of the People in Beijing May 30, 2005. China and New Zealand expressed the desire to sign the FTA agreement as early as possible. [newsphoto]

He also appreciated New Zealand's efforts to first recognize China's full market economy status in developed countries.

Clark said the two countries are facing many opportunities for further co-operation and the FTA agreement is making active progress in a good atmosphere.

She said the tiny Pacific nation is also hoping to enhance cultural exchanges with China to promote mutual understanding and friendship between the two peoples.

Both sides expressed their willingness to discuss signing a cultural co-operation agreement.

Before meeting with Chinese leaders, Clark told reporters she was confident her country and China could agree on a pioneering free trade agreement, but would not set a deadline.

"It's going to be an interesting, tough negotiation, but I am confident that China wants it to succeed," she said.

Clark said New Zealand wants to become the first developed country to sign a free-trade deal with China but she could not offer an exact date, noting that similar agreements with Singapore and Thailand took about a year to negotiate.

She said potential sticking points are China's protection of its growing dairy industry and New Zealand's tariffs on textiles and footwear.

(China Daily 05/31/2005 page2)




Today's Top News
Top China News

China moves to safeguard millions of textile jobs




New Zealand, China look for early FTA pact




Oil giant pumps in 2008 Olympic Games aid




China may change national judicial exam form




Opening up of oil market pumps expectations




Bank regulator warns of soaring estate loans