China may change national judicial exam form
(Xinhua)
Updated: 2005-05-31 00:18
China may adopt a new form for its national judicial exam by adding a personal interview or professional evaluation, instead of the current paper-exclusive exam, said Chinese Justice Minister Zhang Fusen.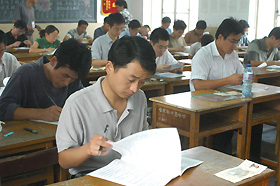 This file photo taken on September 18, 2004 shows people in Hefei, East China's Anhui Province, taking the annual judicial examination. [newsphoto]

"The change may happened in the next three to five years," Zhang made the remark at the ongoing meeting on the national judicial exam held here.

Since China launched the annual national judicial exam in 2002,there have been nearly 660,000 attended the exam, of which 66,400 have passed the exam and obtained certificates. The average passing rate stands at about 10 percent, sources with ministry said.

In the past three years, the exam has become more influential than ever across the country. Starting from 2004, residents of Hong Kong and Macao special administrative regions were allowed to attend the exam.

However, the exam has faced some complaints that it is too difficult and too theoretical, and thus can not successfully reveal the real practical level of legal professionals.

A proportion of on-duty Chinese policemen, prosecutors and judges failed to passed the exam while college students without any working experience got the certificates because they are more familiar with paper work.

Zhang admitted that the national judicial exam needs to be further improved to fit the complicated situation.

The ministry has researched the legal exam forms in other countries in the past three years and will define the key fields to be changed. "After analyzing the comprehensive situation, we will decide which will be changed," said Zhang.




Today's Top News
Top China News

China scraps export tariffs on 81 textile products




CCB removes two senior leaders amid listing




End of tax breaks for companies in sight




French voters reject first EU constitution




Bank regulator warns of soaring estate loans




China rips Japan's war-criminal remarks