China criticizes EU, US for textile curbs
(Agencies)
Updated: 2005-05-30 17:30
China hit out on Monday at the United States and the European Union for curbing Chinese textile exports, saying the sanctions were justified neither by trade law nor by statistics.
Commerce Minister Bo Xilai said Washington and Brussels had failed to prove their domestic markets had been disrupted by an increase in Chinese exports since a decade-old system of quotas on poor countries' exports of textiles expired on Jan. 1.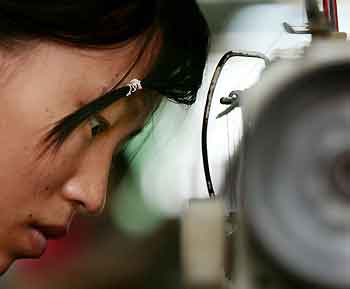 A Chinese worker sews a T-shirt in a garment manufacturing company in Dongguan city, Guangdong province in southern China May 27, 2005. China is willing and ready to have talks with the European Union and the United States on disagreements over textile exports, Commerce Minister Bo Xilai said on Monday. "China is still willing and ready to have consultations with the EU and the U.S. sides in a bid to appropriately address and resolve the current textile issue and textile trade friction," Bo told a news conference. [Reuters]

"The EU and U.S. imposed quotas on Chinese textiles based on primary data obtained in a short period of just three or four months and made a cursory decision. They are groundless and unscientific," Bo told a news conference.

He was speaking hours after China said it would scrap export tariffs on 81 textile products, making good on its threat to roll back the taxes if Western countries threw up barriers against its goods.

The tit-for-tat move followed a formal request on Friday by the European Union for talks with China over surging shipments of T-shirts and flax yarn, which have fanned fears of widescale bankruptcies and lay-offs in the 25-member bloc.

The EU has said it hopes a deal to avoid the imposition of import curbs could be struck during a 15-day consultation period.

However, under the terms of China's accession to the World Trade Organization in 2001, the act of lodging the request already requires China to limit its exports of those products to the EU to a level no greater than 7.5 percent higher than between March 2004 and February 2005.

Washington imposed similar quotas on Chinese-made trousers, underwear, shirts and other goods in mid-May.

Bo said China's analysis of the market differed sharply from that of Washington and Brussels.

He said that Chinese textile exports in the first four months of 2005 had been 18.4 percent higher than a year earlier at $31.2 billion.

Not only was this rise 5 percentage points smaller than the increase recorded in the same period of 2004, but it lagged the 35 percent jump in overall Chinese exports for January to April this year.

"In our opinion this move lacks legal grounding and therefore is incorrect," he said.

EU figures show imports of Chinese T-shirts rose 187 percent in the first quarter of 2005, while imports of flax yarn, used to make linen cloth, rose 56 percent.

The EU immediately rejected Beijing's charge.

"We have shown that not only is there a surge in imports from China but also ... that there is an immediate risk for (European) companies," European Commission spokeswoman Claude Veron-Reville said in Brussels.

CURRENCY DEBATE

The row over textiles has added fuel to a fierce debate over the value of the yuan, which has been pegged near 8.3 per dollar for a decade.

Law-makers and manufacturers in the United States, as well as many independent economists, believe the peg undervalues the currency, giving China's exporters an unfair advantage.

To try to head off curbs, China introduced an export tax on 148 products on Jan. 1, the day the old system ended.

China's exports boomed nonetheless, angering Washington and some EU countries and prompting Beijing on May 20 to raise taxes on 74 of the targeted products, to reduce tariffs on two lines and to add yarn to the list.

The changes had been due to take effect on Wednesday.

However, reversing course, China's finance ministry said that export taxes on 81 items would now be scrapped that day, including the planned levy on yarn.

"The State Council's tax committee decided to further adjust textile export tariffs from June 1," the ministry said in a statement on its Web site (www.mof.gov.cn).

The EU's executive commission, which has responsibility for trade policy, said intensive talks would take place starting on Monday at all levels with China over its textile exports.

Under WTO rules, if no agreement is reached within 90 days, the EU is permitted to impose the 7.5 percent "safeguards" until the end of the year. They can be renewed until the end of 2008.




Today's Top News
Top China News

China to scrap export tariffs on 81 types of textiles




CCB removes two senior leaders amid listing




End of tax breaks for companies in sight




French voters reject first EU constitution




Bank regulator warns of soaring estate loans




China rips Japan's war-criminal remarks