Afghan TV shows tape of kidnapped Italian aid worker
(Agencies)
Updated: 2005-05-30 14:34
A video of a kidnapped Italian aid worker was broadcast Sunday on Afghan television, showing her wrapped in a brown blanket flanked by two men aiming rifles at her head ¡ª a tactic reminiscent of Iraqi abductions.
In the southern city of Kandahar, meanwhile, one of Afghanistan's' most influential clerics ¡ª who led a recent meeting that condemned the Taliban and called on people to support the government ¡ª was shot to death Sunday while driving.
In the video broadcast Sunday, the aid worker for CARE International, 32-year-old Clementina Cantoni, responded to prompts from a man not shown on the video, identifying herself and naming her father, mother and an uncle.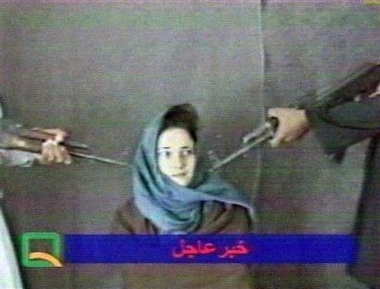 Italian aid worker Clementina Cantoni sits between two men holding assault rifles pointed at her head in this frame taken from video broadcast by an Afghanistan television station Sunday May 29, 2005.[AP]

The tape, broadcast by independent Tolo TV, then zoomed in on her face. She had a blue scarf on her head, spoke quietly and looked nervous.

It was not clear when the recording was made. But near the end of the tape, the man who was speaking off-camera asked Cantoni the date. "Today is May 28, Sunday," she said. The date referred to Saturday and the discrepancy could not be explained.

Cantoni was abducted on May 16, dragged from a car by four armed men as she was being driven to her home in Kabul, the capital. She has been in Afghanistan since 2002 and was working on a project helping Afghan widows and their families.

The TV station did not say how it had obtained the tape. The Italian Foreign Ministry confirmed the woman on the video was Cantoni.

"The video is reliable. Thus it's reassuring that it shows that Cantoni is in good health," ministry spokesman Pasquale Terracciano told The Associated Press in Rome. "The contacts continue."

He declined to comment when asked to elaborate about how the video ended up in the hands of the Afghan TV.

Authorities have said they suspect the kidnapping was the work of the same criminal gang accused of abducting three U.N. workers last year. They were released a month later.

The director for CARE International in Afghanistan, Paul Barker, said he had seen the video and he didn't see any obvious signs that Cantoni was ill or had been mistreated.

"We were encouraged that Clementina looks relatively well and healthy in the video. Her eyes look fine, she looks composed, obviously frightened. I would be much more frightened than she was under the circumstances. But on balance we were encouraged by this development," he said.

Government officials could not be reached for comment.

President Hamid Karzai on Friday paid tribute to Cantoni, calling her a "daughter of Afghanistan."

Posters seeking information about her have been plastered across the city, and Afghan widows who benefited from her aid work have held rallies demanding her release.

Sunday's broadcast was the second time hostages in Afghanistan have been recorded on video that was shown on television. It will further reinforce fears that militants or criminals here are copying tactics used in Iraq.

CARE's British director in Iraq, Margaret Hassan, was kidnapped in Baghdad in October and believed killed after pleading for her life on a video, although her body has not been recovered.

Three U.N. workers also were abducted in Afghanistan last year and held for a month before being released. They had been recorded pleading for their freedom on a video that was broadcast by the media.

In the south, gunmen killed Muslim cleric Mullah Abdul Fayaz, a week after he led a meeting a week ago in Kandahar of about 500 clerics from across Afghanistan that condemned the Taliban rebels and called on people to support the government.

Fayaz was shot to death while driving in the center of Kandahar city, said deputy police chief Gen. Salim Khan. Ten suspects have been arrested after the killing, he said.

Karzai condemned the killing, saying he was "deeply disturbed by this crime, which is an attack on Islam."

A purported Taliban spokesman, Mullah Latif Hakimi, claimed responsibility for the attack in a telephone call to AP. His claim could not be verified.

Fayaz was a supporter of Karzai and his killing is a setback for the president, who needs to maintain the backing of the country's powerful Muslim clergy.

After a winter lull, loyalists of Afghanistan's ousted Taliban regime and other militants opposed to Karzai's U.S.-backed government have intensified their insurgency with a series of bombings and other attacks. U.S.-led coalition forces and Afghan troops have hit back hard, killing nearly 200 suspected insurgents and capturing dozens since March.

Early Monday, an explosion shook the headquarters of NATO's 8,000-strong International Security Assistance Force in Kabul, but there were no immediate reports of injuries, said Lt. Col. Karen Tissot Van Patot, a spokeswoman for the force. She said officers were investigating the cause.

An Afghan police officer outside the compound, speaking on condition of anonymity, said a rocket had hit inside the heavily fortified base, which is near the U.S. Embassy and other diplomatic missions in central Kabul.