Israeli cabinet oks release of 400 inmates
(Agencies)
Updated: 2005-05-29 19:40
Israel's Cabinet on Sunday approved the release of 400 Palestinian prisoners, a long-overdue gesture Israel had agreed to as part of a Mideast truce package.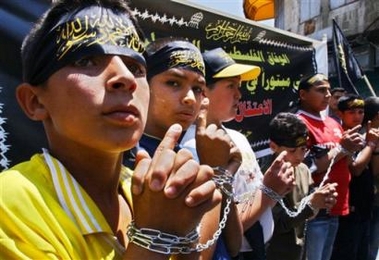 Palestinian youths with symbolic chains on their hands take part in a rally for the militant group Islamic Jihad calling for the release of Palestinian prisoners held in both Israeli jails and Palestinian Authority jails in the West Bank city of Ramallah, Friday, May 27, 2005. [AP]


Prime Minister Ariel Sharon told the Cabinet that the prisoner release would strengthen Palestinian leader Mahmoud Abbas and "the moderate forces in the Palestinian Authority." Sharon's appeal meshed with recent U.S. efforts to shore up Abbas in the face of severe challenges from Palestinian militants.

The ministers voted 18-3 to approve the release. A ministerial panel will now meet to compile a list of those eligible to be freed. No one directly involved in deadly attacks on Israelis would be released, but Israel might be more flexible than in the past and free prisoners who haven't completed two-thirds of their terms, a government official said, speaking on condition of anonymity because of the sensitivity of his position.

The Palestinians want Israel to consult them on which prisoners to release.

"This is not enough," Palestinian negotiator Saeb Erekat said. He also asked that Israel resume handing over West Bank cities to Palestinian control immediately, as it pledged to do as part of the February truce package.

As part of that package, Israel had promised to free a total of 900 Palestinian prisoners. It released 500 shortly after the cease-fire was announced, but further releases stalled as Israel demanded the Palestinian Authority do more to curb militant attacks on Israeli targets.

The issue has been a source of friction between the two sides. More than 7,000 Palestinians are in Israeli custody, many rounded up by troops during more than four years of Israeli-Palestinian fighting.

In a speech in the U.S. last week, Sharon signaled his intention to go ahead with the releases. That gesture coincided with Abbas' visit to the U.S., where President Bush also sought to strengthen the Palestinian leader, in part, by not demanding publicly that he crack down on militants.

Abbas has been reluctant to confront armed Palestinian factions, for fear of touching off a civil war. His ruling Fatah party also faces a serious electoral challenge from Hamas militants, who appear headed to make a strong showing in Palestinian legislative elections, scheduled for July 17.

The Haaretz newspaper reported Sunday that Bush promised Abbas that the U.S. would pressure Israel to dismantle all illegal outposts in the West Bank immediately, if the Palestinians were to disarm wanted men.

Abbas replied that he couldn't disarm militants unless Israel dropped its objection to supplying more arms to Palestinian security forces, the daily said. Israel says Abbas is not using the means already at his disposal to confront militants.

Israeli media reported over the weekend that Bush was also showing greater involvement in the Mideast by expanding the role of the U.S. security envoy in the region, William Ward, to include coordinating Israel's summer pullout from the Gaza Strip with the Palestinians.

A White House spokesman said he could not confirm the reports. Fred Jones, spokesman for the National Security Council, said Ward's mandate "includes promoting Palestinian-Israeli security cooperation."

Palestinians said they have already discussed their plans for the pullout at length with Ward.

In other news, a Palestinian man tried to stab Israeli soldiers at a junction in the West Bank town of Hebron on Sunday, but troops opened fire and killed him, the military said. The man was wielding a knife as he approached the post, and ignored the soldiers' order to stop and the warning shots they fired in the air, the military said. No further details were immediately available.




Today's Top News
Top World News

China rips Japan's war-criminal remarks




Nation ready as bird flu outbreak is stemmed




EU's call for textiles export caps opposed




Mainland tourists may visit Taiwan soon




3 in 5 Japanese oppose Koizumi's shrine visit




Protests in Middle East over US Koran abuse