EU's call for textiles export caps opposed
(bloomberg)
Updated: 2005-05-29 11:32
China 'strongly opposes' a European Union plan to impose caps on Chinese exports of T-shirts and flax yarn, the Ministry of Commerce said, adding that the group is sending wrong signals of trade protectionism with the move.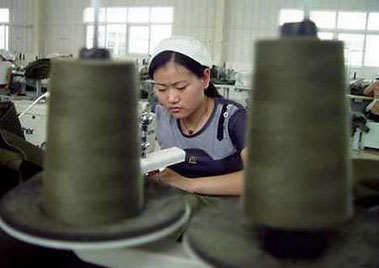 A Chinese worker sews a dress in a garment manufacturing company at Huaibei, east China's Anhui province in this picture taken on May 19, 2005. China will raise export tariffs on exports of 74 classes of clothing and textile products from June 1, the Ministry of Finance said on Friday, a gesture that might help to appease Western trading partners. [newsphoto]


The EU used initial numbers of the Chinese exports from the first three months and initiated plans to restrict the imports based on the data, Chong Quan, a spokesman for the ministry, said in a statement its Web site.

"It's an inaccurate assessment and an incorrect decision," Chong said. "It's sending the wrong signals of trade protectionism. It will also seriously hurt the benefits that the Chinese industry has the right to enjoy in global textile trade. China strongly opposes the move."

Unless China voluntarily caps its own exports of the two categories, the EU may impose a 7.5 percent ceiling on growth in exports of those products, under a 2001 accord signed when China joined the World Trade Organization.

Exports of Chinese clothing and textiles, worth $42 billion in the first half of 2004, rose 29 percent in the first quarter of the year after global textile quotas ended Jan. 1.

The U.S. this month imposed quotas on more than $2 billion of apparel imports from China, and is considering more caps that could go into place next month.

China has initiated measures to help keep the global textile trade in balance and is willing to push for closer dialogue and negotiations with the European industry, Chong said.

"China, through dialogue and negotiations wants to appropriately resolve current problems in textile trade between China and Europe," Chong said.





Today's Top News
Top China News

China rips Japan's war-criminal remarks




Nation ready as bird flu outbreak is stemmed




EU's call for textiles export caps opposed




Mainland tourists may visit Taiwan soon




3 in 5 Japanese oppose Koizumi's shrine visit




Protests in Middle East over US Koran abuse