'Class of 9-11' graduates from West Point
(Agencies)
Updated: 2005-05-29 10:55
Graduating US Military Academy cadets ¡ª who came here just weeks before the Sept. 11 terrorist attacks ¡ª were told Saturday they were a special group forged by historic events.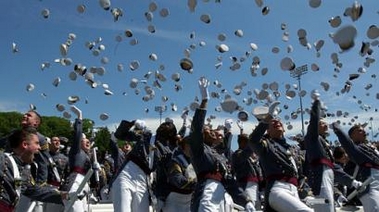 The 911 members of the 2005 graduating class at the United States Military Academy throw their hats in the air after being dismissed as Army 2nd Lieutenants on Saturday, May 28, 2005 at West Point, N.Y. [AP]


Gen. Richard Myers, chairman of the Joint Chiefs of Staff, called the class "one of the few since the early days of the Vietnam War who came to West Point in peace time, saw the nation transition to war and chose to stay, knowing you would raise your right hand and take an oath and swear to defend the constitution of a nation that was still at war."

The Class of 2005 is nicknamed the "Class of 9-11" and, ironically, the number of graduates was 911.

The class spent almost all of the past four years drilling and studying under what West Point Superintendent Lt. Gen. William Lennox called "the shadow of war." About seven in 10 of the new second lieutenants who threw their caps in the air are expected to be in combat in Iraq or Afghanistan within a year.

After the ceremony, a number of the newly commissioned officers said the double blow of the Sept. 11 attacks and a boot camp-like introduction to West Point did little to deter them from pursuing their careers.

"At first, we were thinking, 'Is this it? Is this the real thing?'" said 2nd Lt. Laura Watson of Slippery Rock, Pa. "Other than one little thought, that's all. I knew I was ready for it."

Robert Milmore of Cornwall, N.Y. said the attacks strengthened his resolve.

"Everyone's a little nervous but ready to go out there and do it," he said.

Myers, the outgoing Joint Chiefs chairman, told cadets that the attacks and resulting global battles have braced them to serve an evolving Army engaged in a struggle in which failure is not an option.

"I'm sure those events shaped every day of your past four years and gave you a clear sense of purpose and a heightened sense of resolve," he said.

Lennox reminded the cadets of that "seemingly harmless September morning" four years ago.

"Think about how much the world has changed since that day," Lennox said. "And think about how much you have changed since that day."




Today's Top News
Top World News

Nation ready as bird flu outbreak is stemmed




EU takes textiles dispute with China to WTO




Japan off base at East China Sea gas issue




Private firms to compete for defence bids




China rips Japan's war-criminal remarks




Protests in Middle East over US Koran abuse