45 Iraqis, GI killed in 2 days of attacks
(Agencies)
Updated: 2005-05-29 09:26
Two of Iraq's most influential Shiite and Sunni organizations agreed Saturday to try to ease sectarian tensions pushing the country toward civil war as the government prepared to take its battle against the insurgency to Baghdad's streets.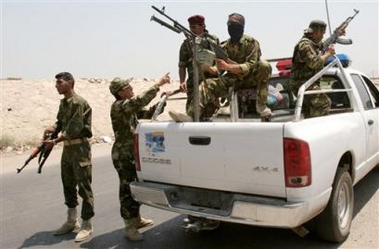 Members of the elite Interior Ministry force known as the Wolf Brigade set up a checkpoint in western Baghdad in Iraq Saturday, May 28, 2005. Iraqi authorities are preparing to launch a massive security crackdown, involving more than 40,000 soldiers and policemen, in Baghdad to try root out insurgents responsible for a wave of violence. [AP]


The new effort to make peace came as attacks killed a U.S. soldier and at least 45 Iraqis over the past two days ¡ª including 10 people returning from a religious pilgrimage in Syria whose bodies were left in the border city of Qaim, as well as three suicide bombers and three men killed when a roadside bomb they planted exploded prematurely.

"We are all Muslims, and usually problems happen between one family. We want to solve them on the basis of Islamic brotherhood," said one Sunni official, Isam Al Rawi.

In an Internet message, Abu Musab al-Zarqawi's Al-Qaida in Iraq on Saturday launched a tirade against Shiites, accusing them of targeting Islam and especially Sunni Muslims in what appeared to be an attempt to stoke hatreds and sectarian violence.

"There's no mosque or honor that has been violated or Muslim who has been insulted in Iraq without the help of the (Shiites)," said the statement, posted on an Islamic Web site.

It accused Iraq's majority Shiites of aiding "the Jews," apparently referring to U.S. troops and officials in Iraq. The mocking statement was allegedly posted by Abu Maysara al-Iraqi, a spokesman for the group. Its authenticity could not be verified.

The group purportedly claimed responsibility for twin suicide car bombings in Sinjar. The attacks, 75 miles northwest of Mosul city, killed seven Iraqis and injured another 38 at the entrance to an Iraqi military base, according to hospital officials.

Another al-Qaida affiliate in Iraq, the Ansar al-Sunnah Army, announced the death of a Japanese contractor it abducted earlier this month.

Meanwhile, Iraqi police and army units prepared to launch a crackdown Sunday in Baghdad that will include helping cordon off the city and erecting hundreds of checkpoints in and around the capital, according to defense and security officials. More than 40,000 Iraqi soldiers and policemen, supported by U.S. troops, will deploy to the new checkpoints and later begin street-to-street sweeps.

They hope to catch or flush out the insurgents responsible for a wave of violence that has left more than 690 people dead since the country's new Shiite-led government was announced April 28, according to an Associated Press count.

In an effort to mitigate escalating sectarian tensions, officials from the Sunni Association of Muslim Scholars, considered close to some insurgent groups, met with representatives from the Badr Brigades ¡ª the military wing of Iraq's largest Shiite party, the Supreme Council of the Islamic Revolution in Iraq.

Organized by the anti-American Shiite cleric Muqtada al-Sadr, the gathering aimed to smother accusations that began earlier this month when the association's leader, Harith al-Dhari, accused the Badr Brigades of killing Sunnis and executing their clerics. A number of Shiite clerics were also killed.

The brigades not only denied the charges, they accused the Sunni association of failing to condemn the insurgency and of trying to "push Iraq into a sectarian conflict."

Large portraits of the burly, black-bearded cleric al-Sadr adorned the walls inside the building, located in a narrow back alley in northern Baghdad's suburb of Kazimiyah, a Shiite stronghold.

"We overcame many obstacles. The two parties agreed to serving Iraq and to preserve its unity," al-Sadr official Abdul Hadi Al Daraji said.

He said another meeting would be held during the week and a national gathering would be called once the crisis between the two organizations was resolved.

Akihiko Saito, 44, a Japanese contractor, was among a group of five foreign workers ¡ª four of them earlier confirmed dead ¡ª who were ambushed in the Anbar province west of Baghdad.

Iraqi confirmation of Saito's death followed Friday's Internet release of a video showing the bloodied body of an Asian man, apparently Saito. An Ansar statement said he died after being wounded during clashes after the ambush.

More than 200 foreigners have been abducted in Iraq, and at least 30 killed.

A U.S. soldier died from wounds from a homemade bomb near Diyara, west of Baghdad, the military said Saturday. The soldier, who died Friday, was assigned to the 155th Brigade Combat Team, II Marine Expeditionary Force.

As of Saturday, at least 1,655 U.S. military members have died since the Iraq war began in March 2003, according to an AP count.

The Iraqi army captured two Iraqis on Saturday they suspect shot down an American helicopter and killed its two-man crew on Thursday near Buhriz, north of Baghdad, said Maj. Steven Warren of the 3rd Brigade Combat Team.

In Syria, the Arab League's secretary general, Amr Moussa, said the league was "ready to send advisers to help and offer assistance" to the 55-member Iraqi commission charged with drafting the new constitution.




Today's Top News
Top World News

Nation ready as bird flu outbreak is stemmed




EU takes textiles dispute with China to WTO




Japan off base at East China Sea gas field issue




Private firms to compete for defence bids




China rips Japan's war-criminal remarks




Safety official owned mine; 18 killed in blast