Nation ready as bird flu outbreak is stemmed
By Zhao Huanxin (China Daily)
Updated: 2005-05-28 00:10
The country's top veterinary officer said on Friday he has confidence in China's avian influenza prevention measures, following its success in bringing the latest outbreak under control.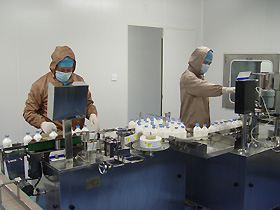 Chinese researchers work at the Harbin Veterinary Research Institute in Harbin, in northeast China's Heilongjiang province in this March 22, 2005 file photo. [newsphoto]

The country also successfully stamped out two incidents of Asia type I foot and mouth infections, which inflicted cattle in Beijing and Xinjiang earlier this month, Chief Veterinary Officer Jia Youling told a press conference.

"No domestic flocks have been found to be infected with bird flu, based on investigations of the possible habitats and migration routes of wild birds in Qinghai, and on a survey of 2.18 million fowl in the province," Jia said.

Nor had any human infection been detected, he said, citing Ministry of Health findings.

However, he admitted the number of dead migratory birds in the northwest province, including bar-headed geese and gulls, had increased five-fold to more than 1,000 by Thursday.

This contrasted sharply with the initial report of 178 deaths on the "bird island" in Qinghai Lake -- the largest saltwater lake in China -- and in nearby areas earlier this month. The deaths were later confirmed to have been caused by the fatal H5N1 strain of bird flu virus.

Judging from the migration paths of wild birds, it is unlikely the epidemic would spread to other parts of China, Jia said.

Before the Qinghai case, China's first outbreak of bird flu for nearly a year, monitors tested 413,000 samples nationwide between January and April and found no sign of bird flu contagion, he said.

In line with the Law on the Prevention and Control of Animal Diseases, Qinghai authorities sealed off and disinfected the affected area, and vaccinated all vulnerable domestic birds nearby and along migration routes.

"So far nowhere in the world has a practical solution to prevent and control avian influenza in migratory birds," Jia said. "All the measures we have taken aim at preventing domestic birds and humans from becoming infected."

A key measure is to prevent people and domesticated flocks from coming into contact with wild birds. Those who have come into contact will be put under observation, the veterinary officer said.

Jia's confidence in the nation's bird flu control has also been boosted by China's development of vaccines against the disease.

On Wednesday, Chinese scientists said they had produced two new vaccines to stop the spread of the deadly H5N1 virus to fowl, water birds, mammals and humans.

Chen Hualan, director of the China National Bird Flu Reference Laboratory in Harbin, Heilongjiang Province, said the new vaccines developed by her lab had proved successful, with a 100 per cent rate of preventing infection by the H5N1 virus, according to a Xinhua report.

Foot and mouth disease

Apart from bird flu, China also confirmed two cases of Asia type I foot and month disease in Hebukesaier County, Xinjiang Uygur Autonomous Region, and Yanqing County in Beijing in early May, which reported 75 and 252 sick cattle, respectively.

Some cattle in a beef cattle farm in Sanhe, a city in Hebei Province, were also found to have been infected with the virus, resulting in a cull of 512 beef cattle from the same herd, Jia said.

In total, 4,383 cattle were slaughtered as part of a drive to curb the spread of the disease, the source of which is still under investigation.

Cattle farmers will get compensation of up to 6,000 yuan (US$723) for each animal culled.

"The disease is under effective control and has not spread," Jia confirmed.

Foot and mouth disease affects cows, sheep, goats and other cloven-footed animals. It is highly contagious in cattle but harmless to humans, he said.

Even from the perspective of international trade, China has no intention of hiding an outbreak of foot and mouth, Jia said in response to a complaint about the delay in reporting the disease.

Since 1999, when type O foot and month disease was detected in China, it has been impossible for the country to export cloven-footed animal products.

The delay in media reporting was partly due to the time required to get laboratory confirmation of infections, he said.

Animal products from the country's epidemic-free zones, built according to World Organization for Animal Health and World Trade Organization guidelines, sell well abroad, he said.




Today's Top News
Top China News

Nation ready as bird flu outbreak is stemmed




Private firms to compete for defence bids




Safety official owned mine; 18 killed in blast




Proposed bill to boost Chinese in US schools




China tries to prod US to lift quotas




China firm as US steps up yuan pressure