Jolie denies romance with Pitt
(xinhua)
Updated: 2005-05-27 16:10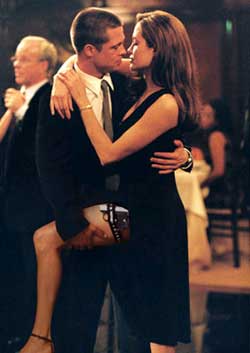 Angelina Jolie and Brad Pitt in the movie "Mr. & Mrs. Smith". [xinhua]


In a recent interview with Marie Claire magazine, Angelina Jolie denies the rampant rumors that Brad Pitt and her had an "intimate" relationship.

"Absolutely not," she tells the magazine when asked if she had had sex with Pitt.

"To be intimate with a married man, when my own father cheated on my mother, is not something I could forgive. I could not, could not, look at myself in the morning if I did that," Jolie said in an issue that hits American news stands on June 7.

For months, speculation has swirled around the world that Pitt, 41, the star of movies like Ocean's Twelve and Troy, and Jolie, 30, had been hot and heavy since filming Mr. & Mrs. Smith last year. Pitt and his wife, actress Jennifer Aniston, separated in January after more than four years of marriage. Aniston later filed for divorce in March, citing irreconcilable differences.

According to Jolie, she's single, and now concentrating on her 4-year-old son Maddox, whom she adopted from a Cambodian orphanage. "I am not dating anybody. I think the next man I get involved with would have to become Mad's father, and that's a high bar as far as I'm concerned. I'm not anticipating that coming anytime soon."

Both of Jolie's marriages - to Jonny Lee Miller and Billy Bob Thornton - ended in divorce.