China firm as US steps up yuan pressure
(Agencies)
Updated: 2005-05-27 13:00
China's central bank chief and a trio of top government economists lined up on Friday to urge a cautious approach to economic reforms, defying increasingly urgent U.S. demands for a swift revaluation of the currency.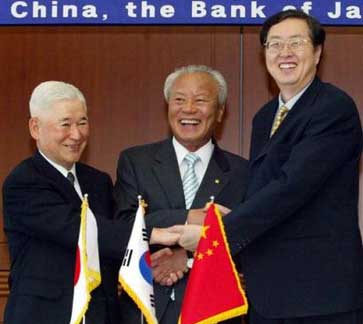 Toshihiko Fukui, Bank of Japan governor, left, Park Seung, Governor of Bank of Korea, center, and Zhou Xiaochuan, Governor of People's Bank of China, right, pose for the media during a Signing Ceremony for Bilateral Swap Agreements between South Korea, Japan and China at head office of Bank of Korea in Seoul, Friday, May 27, 2005. The Bank of Korea on Friday signed local-currency swap agreements worth the equivalent of US$3 billion with the Bank of Japan and US$4 billion with the People's Bank of China as part of a planned expansion of ties among Asian central banks. [AP]
U.S. Treasury Secretary John Snow told Congress on Thursday he was confident that China would change the yuan's decade-old peg of near 8.3 per dollar within the next six months.
"We've got their attention and they're gonna move," Snow told law-makers, many of whom agree with U.S. manufacturers that the peg unfairly undervalues the yuan by perhaps 30 percent.
But Zhang Yansheng of the powerful National Development and Reform Commission said a lot of work was still needed in areas such as currency, taxation and foreign trade policy in order to minimise the impact of yuan reform on China's economy.
China's core problem was not whether the exchange rate of the yuan, or renminbi, was too low, Zhang told the International Business Daily, a paper published by the Ministry of Commerce.
"It will be better to keep the renminbi's exchange rate stable for another two years," Zhang, who heads the commission's External Economy Research Institute, was quoted as saying.
China has long said that it intends to let the yuan trade more freely but that it will reform its currency regime at a time of its own choosing and not in response to foreign pressure.
Central bank chief Zhou Xiaochuan said on Friday that Beijing would proceed cautiously because change could lead to uncertainty.
"The sequence of reform is very crucial. It costs us a lot," Zhou, governor of the People's Bank of China, told a conference in Seoul. "If we slow down the reform, it also costs us a lot."
FOREIGN PRESSURE
Zhou's voice counts in the decision-making process. Think-tanks and various ministries are also increasingly vocal in the debate. But China watchers say the decision whether to change the peg is so important it will be taken at the very highest reaches of the party and government.
Wang Jian, vice secretary general of the China Macro Economy Academy, said he was opposed to tampering with the yuan as China would need to rely increasingly on exports, because investment, which had been the main engine of growth, had peaked.
Another problem with revaluation is that foreigners would never be happy. A 5 percent rise would spark speculation that a 15 percent appreciation was on the cards, while a 15 percent rise would only make markets think a 40 percent move was coming.
"Foreigners think China cannot withstand pressure for a revaluation of the yuan and that if there's enough pressure, the yuan will be forced higher and higher," Wang told the China Securities Journal.
Another objection to unshackling the yuan is that it could bring the dollar crashing down, with dire consequences for China and the global economy, Wang was quoted as saying.
"The dollar is extremely unstable because of the twin deficits. If the renminbi is revalued, other Asian currencies will go up too and the dollar could collapse in the near future," he said.
Another prominent academic, Song Hong of the Chinese Academy of Social Sciences, told the International Business Daily that the yuan should appreciate in the long term.
But he said it would be better if the currency was allowed to rise gradually and in small steps over a lengthy period.
Song, who is dean of the academy's Department of International Trade Research, also said China was not making full use of its $659 billion stockpile of foreign exchange reserves.
The reserves, which are now invested primarily in U.S. bonds, should be channeled into the development of private Chinese firms, Song said. He did not say how this should be done.
"It's quite embarrassing that China doesn't know how to use its huge reserves," the paper quoted him as saying.

Today's Top News
Top China News

Battles won on drugs, but war rages on




China wants Games torch on Mt.Qomolangma




Shanghai targeting at property bubbles




China firm as US steps up yuan pressure




FM: Talks only way to East China Sea row




Nestle baby formula pulled off the shelves